No excuses for McCulloch
Lee McCulloch does not believe Rangers can blame poor performances on their off-field problems ahead of Sunday's Old Firm derby.
Last Updated: 23/03/12 11:13pm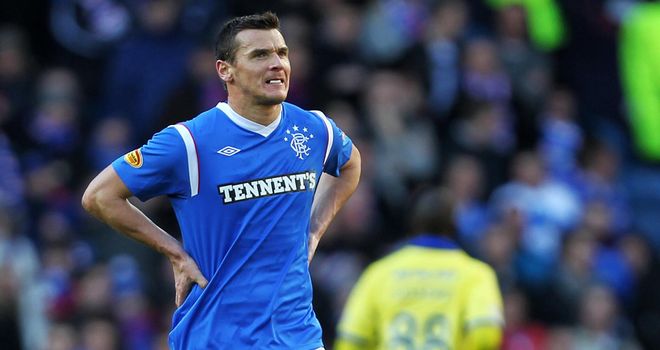 Lee McCulloch does not believe Rangers can blame poor performances on their off-field problems and is determined to provide their supporters with some cheer in Sunday's Old Firm derby.
The Scottish champions have lost four out of their last six games and defeat to rivals Celtic would mean four losses in a row at Ibrox for the first time in the club's 140-year history.
The poor run of form coincided with Rangers being plunged into administration last month, with players then subsequently agreeing to wage cuts of as much as 75 per cent to avoid widespread redundancies.
However, McCulloch claims everyone in the dressing room is well aware of their responsibility to deliver results on the park regardless of issues behind the scenes.
He said: "I don't think we will use it as an excuse or have been using it as an excuse.
"We are paid to play football and that's what we should concentrate on.
"Everything else is outwith those in the dressing room's hands so we've just got to concentrate on playing football and trying to pick up points again.
"After everything that everyone has gone through, there isn't a better time to get back on track."
The midfielder says Rangers do not regard themselves as a "wounded animal" as a result of the club's problems, adding: "I don't think so.
"That would be us feeling sorry for ourselves and I don't think you're allowed to do that here and we've certainly not got the players that would do that.
Tough game
"We are always looking to the next game to see if we can keep a run going or bounce back from a bad result. We are definitely looking forward to this game."
If Motherwell fail to take three points at Kilmarnock on Saturday, Celtic would head into the Old Firm derby with an opportunity to clinch the SPL title at the home of their great rivals.
McCulloch said: "It will be a big game anyway regardless of the Motherwell result.
"Our mindset is just all about what we do, it's all about us.
"We are looking forward to the game, we know it's going to be a tough game.
"Our results have not been great of late so we need to put that right - hopefully starting on Sunday."
Asked if Celtic go into the match as favourites, McCulloch said: "I think they've got to, with recent results.
"They have won a lot of games in a row, barring their last result.
"We've not won for a few games so Celtic have got to be favourites and probably rightly so."