Aguero rubbishes Real talk
Manchester City star Sergio Aguero has been quick to rubbish claims that he could be set to return to Spain with Real Madrid this summer.
Last Updated: 24/03/12 11:38am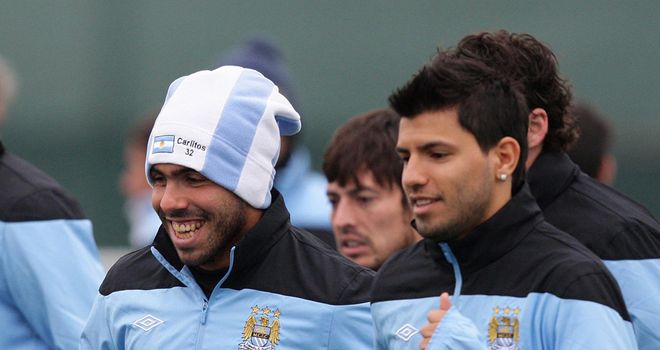 Sergio Aguero has been quick to rubbish claims that he could be set to return to Spain with Real Madrid this summer.
The brilliant Argentine joined Manchester City last summer and he emerged as real fans' favourite, with 17 goals to his name already this season.
The former Atletico Madrid man was linked with a possible move to Real in the press this week, but he has been quick to deny this.
"None of the stories about Real Madrid have come from me and the City fans can rest assured I am happy here," he told The Sun.
"First and foremost, the major aim is to win the league title this season. Then I want to stay here for a long time after that.
"I'm very, very happy here. From the moment I arrived, everyone has treated me really well.
"It's down to me to repay that kindness and good feeling I've had from everyone with some performances out on the field."
Tevez
Aguero admits he cannot wait for the chance to link-up with compatriot Carlos Tevez in the closing weeks of the season.
After a six-month absence, Aguero's fellow Argentina forward is now back in manager Roberto Mancini's plans as City look to secure the Premier League crown.
The 28-year-old made an immediate impression by coming off the bench to set up Samir Nasri's late winner in Wednesday's vital win over Chelsea at the Etihad.
Tevez's availability adds an extra dimension to the strikeforce of Aguero, Edin Dzeko and Mario Balotelli, who have scored 57 goals between them this term.
Aguero said: "He will bring a lot to the party for what remains of the season.
"Through what happened and the situation that came about I've not had much chance to play with Carlos but what we have done between the three of us myself, Mario and Edin - is to give a good account of ourselves in terms of goalscoring.
"We have done fairly well but I think it would be nice to have Carlos on board to add goals to the threesome, but it's down to the manager and hopefully he continues to pick me."
City's midweek win, in which Aguero also scored after Chelsea took the lead, lifted them back within a point of leaders Manchester United with nine games remaining.
Opportunity
With United not in action until Monday, they now have the opportunity to move back to the top as they travel to Stoke.
Aguero said: "That's what it's all about in a title race, not giving up. We are fighting for the title, we have confidence.
"We're the sort of team who know if we go behind we can come back and win the game.
"We are playing well and we must carry on in that vain and concentrate on not letting more points go."