Kop voice spurs Spearing
Jay Spearing says having his name chanted by the Kop encourages him to give even more to the Liverpool cause.
Last Updated: 24/03/12 12:17pm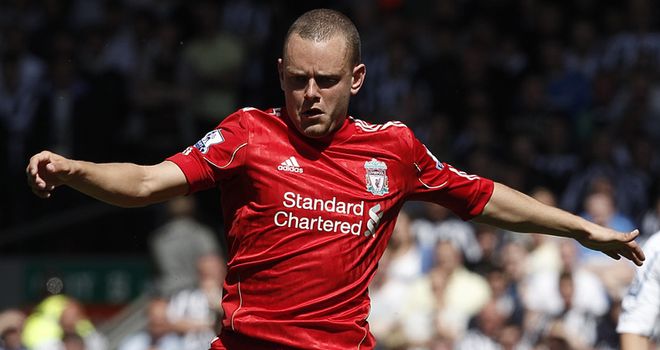 Liverpool midfielder Jay Spearing says having his name chanted by the Kop encourages him to give even more to the team.
The 23-year-old has made 10 Premier League starts this season and believes he has finally proved his worth to the squad, three years on from his first-team debut.
Spearing could hear the Liverpool faithful singing his praises during their 2-1 FA Cup defeat of Stoke last weekend, and admits it handed him an overwhelming sense of worth.
"It was a breakthrough for me," he told the Daily Star. "I have been fighting for a couple of years to try and be a regular and show the manager and the fans what I am capable of.
"To hear the Kop sing my name gives me a lot of confidence and my family as well. It is something that I have dreamed of and hopefully it will get sung again.
"As the game goes on, you sort of hear it and that gives you a boost to try and do something else to make them sing it even louder."
Debut
Spearing made his Anfield debut against European heavyweights Real Madrid in March 2009 as a substitute for Steven Gerrard, with the Reds romping to a 4-0 victory on the night.
It was one of many memorable nights in Anfield's history, but Spearing admits he takes greater satisfaction from establishing himself as a first team regular.
He said: "Against Real Madrid, it was because a young lad had come on. I smashed Rafael van der Vaart and it was like, 'Yes, come on'. It was more of a 'Well done'.
"But, touch wood, last Sunday was more a case of seeing me as a big part of the team."
Despite standing just 5ft 6inches, the combative midfielder insists his height has never been a concern to him, such has been his confidence in his ability.
"I have always believed if I'm good enough, I will play and I have never been the tallest," he said.
"It's something I've never worried about. I knew I could read the game and play. I thought if I was good enough, they wouldn't get near enough to cause me problems.
"[Andres] Iniesta, Xavi and Paul Scholes have shown size does not matter if you can play the game."