Smalling ready for return
Chris Smalling has declared himself fit and ready to launch himself back into the Premier League title battle.
Last Updated: 24/03/12 1:52pm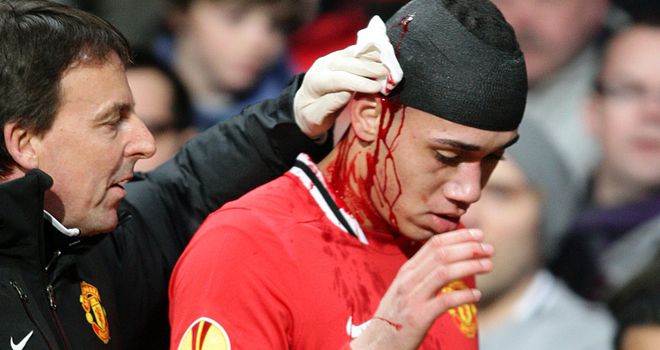 Manchester United defender Chris Smalling has declared himself fit and ready to launch himself back into the Premier League title battle.
Smalling has spent the last three weeks trying to overcome a head injury sustained in a clash with Klaas Jan Huntelaar in England's friendly with Holland last month.
His first comeback, wearing protective headgear, had to be aborted when the former Fulham defender split his stitches in the Europa League home defeat to Athletic Bilbao.
The 22-year-old has fully recovered now, though, and came through a midweek reserve team outing against Aston Villa without a problem.
"I feel good," he said. "It was the first time I'd not played with any protection and I came through it well.
"The manager wants everyone out on that field to make sure he has a good squad to choose from.
"That can only be beneficial in the weeks ahead. Having everyone fighting for a place and raring to go will help us."
Title run-in
Ferguson has, in the past, pointed out that his players tend to recover when the season is reaching its conclusion and the major prizes are being handed out, and this season is no exception.
And unusually for United, this time around they only have one match a week ahead of them after being eliminated from every other competition earlier than they would normally expect.
That may have a benefit though as they look to hold off Manchester City and claim a record 20th championship.
The order of fixtures may also play a part as United follow their neighbours into action for the next two weekends, which could pitch them into a tense game of catch-up.
"I don't think it makes too much of a difference," said Smalling.
"City will obviously feel the pressure to try and go ahead of us but we've dealt with that before and I don't think it will matter either way."
Home form
United dropped only two points on home soil last term - to West Brom - but this season there have already been defeats to Manchester City and Blackburn, in addition to a November draw with Newcastle.
With the scrap at the top so tight, the Red Devils cannot afford to slip up in their remaining five games at home soil, starting against Fulham on Monday.
"It's very important to win our last five home games," added Smalling.
"Last season Old Trafford was our fortress and we need to make sure we get the fans right behind us.
"The only way we can do that is by putting on a good performance."
The Cottagers have suffered eight successive defeats in all competitions at Old Trafford, and have not scored on their last four visits.
They were also on the wrong end of a five-goal hammering on home soil when the two sides met just before Christmas, although Smalling believes that result may trigger a significant improvement.
"They're very much an established side, but they have had some ups and downs this season," said Smalling, an £8million capture from the west London outfit in the summer of 2010.
"We got a good result when we played them away in December but I am pretty sure they will be hoping that doesn't happen again."