Baines hails Pienaar influence
Everton defender Leighton Baines has praised Steven Pienaar for a fine display in the club's 2-0 over Swansea at the Liberty Stadium.
By Tom Mallows
Last Updated: 24/03/12 7:16pm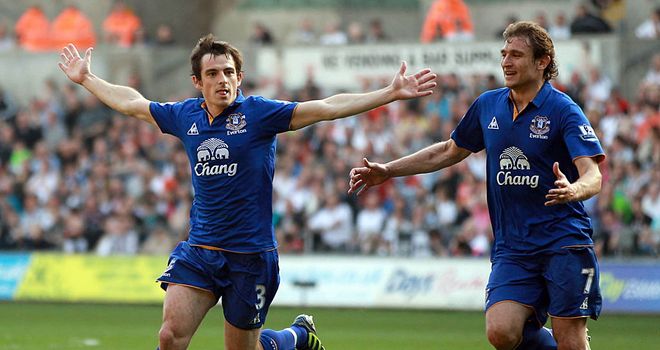 Everton defender Leighton Baines has praised Steven Pienaar for a fine display in the club's 2-0 win over Swansea at the Liberty Stadium on Saturday.
The South African moved back to Goodison Park late on transfer deadline day after a frustrating year at Tottenham Hotspur.
The winger has put in a number of fine displays since pulling on the Everton shirt again, helping the Toffees to a post-Christmas revival in form.
The 30-year-old was excellent once more in Saturday's 2-0 win at Swansea, combining well with left-back Baines, who opened the scoring in South Wales with a magnificent free-kick.
Speaking after the game Baines was quick to deflect the attention away from himself and instead praised Pienaar for the impact he has made since returning to Merseyside.
"It's great to have him back," Baines told Sky Sports. "It was a massive boost for the whole club when he did come back because we knew what a good player he was and we have missed him since he left.
"It's been unfortunate that he is cup-ted and missed a few games but we are glad to have him for the games we have and he definitely makes a massive difference for the team."
Bounced back
The win also ensured the Toffees bounced back after consecutive defeats against Arsenal and Liverpool in the league as well as a 1-1 draw with Sunderland in the FA Cup.
Baines felt his side have been a little unlucky in those games but got what they deserved against the Swans, taking confidence from the result going into the replay with the Black Cats at the Stadium of Light on Tuesday.
"Swansea are always going to play good football and we tried to press all over the pitch," added the England man.
"If you sit off they will have 60-70 % possession so we had to get after them and it worked a lot better in the second half because we kept the ball ourselves.
"It's nice to get the win going into the cup games because we lost the other day which was disappointing.
"It's going to be a tough game at Sunderland, it was a tough game at Goodison so we know what to expect but we will go there to try and win the tie."