Platt downplays Mancini issue
Manchester City assistant boss David Platt has denied that Roberto Mancini was too angry to speak following their draw with Stoke.
Last Updated: 25/03/12 12:37pm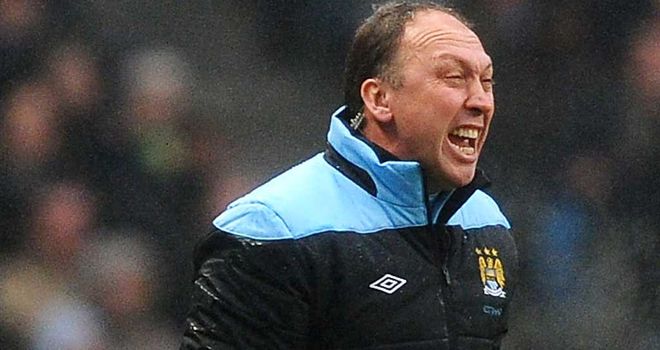 Manchester City assistant manager David Platt has denied that Roberto Mancini was too angry to speak following their 1-1 draw with Stoke City at the Britannia Stadium on Saturday.
City came from behind to muster a draw and go level on 70 points with Manchester United but ahead on goal difference at the top of the Premier League table.
Manager Mancini, though, was not pleased with the way Stoke players went about their game on the pitch and did not speak after the match.
There were also suggestions that the Italian had refused to shake hands with Stoke boss Tony Pulis after the game, but Platt was coy on that.
Hot water
"He is worried he might say something that might get him in hot water," he said.
"He was just a bit hot afterwards and once he calms down, he will be fine.
"You know how these things go: if he comes in and something goes out of the way or gets lost in translation...
"I don't know (if he avoided a handshake with Pulis)."
United, City's only challengers for the league title, have a game in hand and will claim a three-point advantage should they win against Fulham at Old Trafford on Monday.
Twists and turns
However, Platt insists that City are still in control of their own fate, saying on the club's official website: "There is a long way to go and there will be more twists and turns along the way, for certain.
"We will follow our own road as we have been doing all season and win as many games as we possibly can between now and the last match.
"Our destiny is still well within our own hands, which is all you can ask for at this stage.
"The lads are positive and we move on to the next game, now."