No expectations for Di Matteo
Chelsea's interim manager Roberto Di Matteo is not expecting to land the job permanently if the club win this year's Champions League.
Last Updated: 25/03/12 2:30pm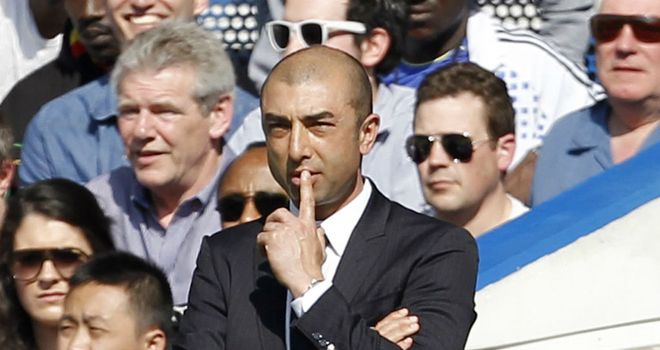 Chelsea's interim manager Roberto Di Matteo is not expecting to land the job permanently if the club win this year's UEFA Champions League.
The Italian tactician has been entrusted with looking after first-team affairs for the remainder of the season in the wake of Andre Villas-Boas' sacking in earlier this month.
Di Matteo has steadied the ship following the ex-Porto man's exit, including maintaining their interest in Europe's premier club competition with a remarkable 4-1 extra-time win over Napoli which secured a 5-4 aggregate success.
Chelsea tackle Benfica in the first leg of the quarter-finals of the competition on Tuesday with a possible clash against European giants Barcelona and AC Milan in the semi-finals.
Being crowned champions of Europe eluded the likes of Jose Mourinho and Carlo Ancelotti during their time at Stamford Bridge and Di Matteo admits he has not thought about eclipsing the pair.
The 41-year-old, who helped Chelsea win two FA Cups as a player, is simply doing his best for the club and happy to let the chips fall where they may.
Future
"That's not my mindset," Di Matteo responded when it was suggested he would win the job permanently if Chelsea won the Champions League.
"Being the manager is not a question that is due to be asked right now - I have too many things in my mind.
"I'm just doing my best for this club and these players and that's all.
"I have faith in the club that they will make the right decisions for the future of the club - because they are bigger than any coach, manager or player."
He added: "I have not thought at all about being the one who wins Chelsea the Champions League.
"I do dream but not only about football - I dream about other stuff as well. But let's not go into details!"
Instinctive
Di Matteo expressed his delight following Chelsea's triumph over Napoli and he had no problems being on the receiving end for being overzealous.
The Blues have come in for heavy criticism this season for under-achieving this season and Di Matteo was delighted his troops were able to show what they are made of.
"My celebrations after Napoli were just very instinctive. It showed what this means to me and I was happy for the players," he continued.
"They had been getting a lot of stick and so I was happy to see them express themselves in the Champions League.
"We are trying very hard to prove everybody wrong that wrote us off. The experience factor does help you. If you are used to playing certain games over the year, it helps."