Cahill retains belief
Gary Cahill believes Chelsea can still seal a Premier League top-four place, despite a goalless home draw with Tottenham.
Last Updated: 25/03/12 9:49pm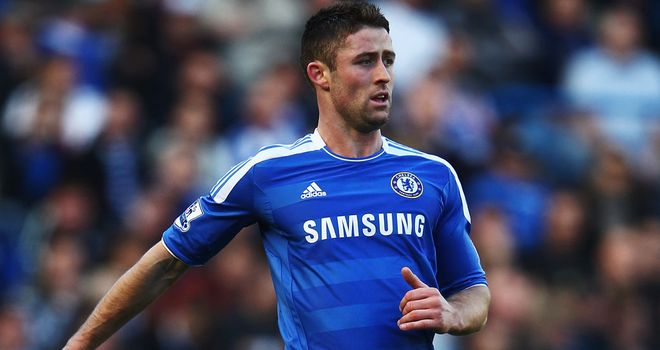 Chelsea defender Gary Cahill believes the Blues can still seal a Premier League top-four place, despite a goalless home draw with Tottenham.
The fifth-placed Blues currently sit five points behind their opponents with just eight matches remaining and are in real danger of failing to qualify for the UEFA Champions League for the first time since Roman Abramovich bought the club.
Roberto Di Matteo's four successive victories in all competitions after being appointed caretaker manager suddenly seem a long time ago, with the past five days having seen Chelsea pick up just one point from two league matches.
But Blues and England defender Cahill believes the Blues can still make the Champions League places.
He said: "We have to be confident. Our form of late has been good.
"Obviously, we've got to win basically the majority of the games we've got left and we've got some tough games coming up.
"That's our target, that's what we're aiming for."
Look forward
Despite the blip, Chelsea still have a Champions League quarter-final and FA Cup semi-final to look forward to.
"Everyone was saying how bad a season it was," Cahill said.
"But we we're in a quarter-final, we're in a semi-final and we've still got a chance to push for that fourth spot.
"So, it's going to be a massively important period coming up for us, the end of the season."
Chelsea's top-four hopes would have been all but extinguished had Spurs not missed two glorious chances in the Stamford Bridge sunshine.
The second failure was thanks to heroic defending from Cahill, who recovered from being caught out of position to throw himself at Emmanuel Adebayor's finish.
Disappointed
"I was disappointed earlier on with my decision to step up," said the 26-year-old, who had scored in his two previous games.
"So, to rectify that and to get back in, it's as good as a goal for me."
Cahill was made to wait for his Chelsea debut after his January move from Bolton but has now started 10 of their past 12 games.
"I'm happy with how things are going at the minute," he said.
"To try to settle in and play straight away to the standards that I expect from myself is tough and it took me a couple of weeks.
"But now, the last few weeks - as hopefully you've seen - I'm back to where I should be and I need to maintain that."