Williams plans to hit the weights
Ashley Williams revealed he intends to pump iron all week in a bid to shake off his performance-wrecking stomach bug.
Last Updated: 27/03/12 9:22am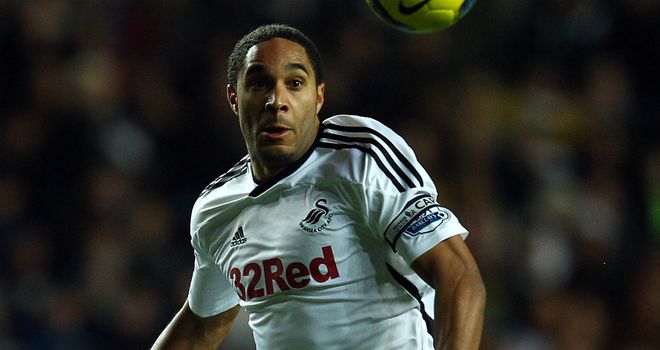 Ashley Williams revealed he intends to pump iron all week in a bid to shake off the stomach bug that was to blame for his poor performance against Everton.
The 27-year-old climbed out of his sick bed to face David Moyes' men last week but admits he was below par after the virus that struck him down had robbed him of all his strength.
And to add insult to injury it was his mistakes that cost Swansea in their 2-0 defeat at the Liberty Stadium.
But the Swans skipper is hoping a few days at the gym will get him back to full fitness for the final few weeks of the season.
Sick
Williams said: "The virus wasn't nice. It got me for a few days and I lost a load of weight.
"I've got to get in the gym this week and work hard to get back up to my weight and add some strength.
"I wasn't really at it against Everton and was tired in the second half.
"If I'm honest, then, I'm not really happy with my performance. But I'll do what I can to be there for the team next week."
The first test for Williams will be a trip to White Hart Lane to face high-flying Spurs who still have an eye on the Champions League places.
Europe
Swansea have European plans of their own and Williams knows that they will need to bounce back from the Everton defeat if they are to have any chance of finishing in the top-six places and bag a spot in next season's Europa League.
He added: "We are still 10th, so it's not too bad. We've lost before and bounced back.
"We perform well against the big teams and we did well against Spurs before.
"But the next step for this team is improving the way we play away against the big teams."