Cattermole - We didn't show up
Lee Cattermole has admitted Sunderland 'didn't show up' during their 2-0 FA Cup quarter-final defeat by Everton.
Last Updated: 28/03/12 11:41am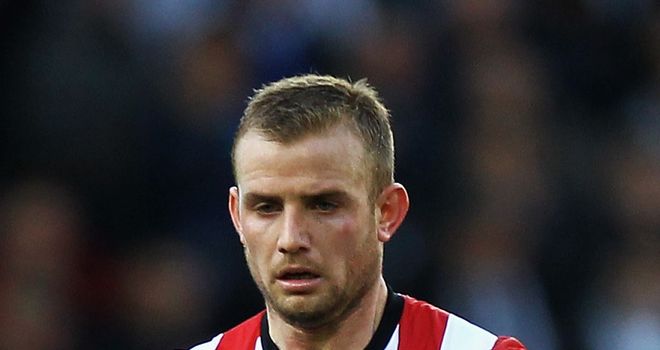 Lee Cattermole has admitted Sunderland 'didn't show up' during their 2-0 FA Cup quarter final defeat by Everton.
The Black Cats were a shadow of the side seen in recent weeks as the visitors dominated the encounter at the Stadium of Light to book a semi-final tie with Liverpool at Wembley.
But, whilst the captain admits they were not good enough, he has urged Sunderland to put the disappointment behind them and bounce back during the final weeks of the season.
"I don't think we really showed up," Cattermole told the Shields Gazette.
"I thought all over the pitch we were second best. We couldn't really deal with the long ball, and we just looked vulnerable all over the pitch.
"It was disappointing, but now we have just got to focus on the rest of the season. We have got six or seven big weeks now to try to come back from this.
"I think if you had said three or four months ago that we could finish in the top half of the league, I think everyone would have grabbed it with both hands.
Positives
"We will try to look at the positives now and build on what we have done so far.
"The lads are hurting in the changing room afterwards, but we are going to have to come out and respond, and we will find out about their characters.
"We are disappointed for ourselves, but we are also disappointed for the fans.
"Last night was a great chance for us to go out there and show what we are all about.
"This season, we have had a decent run in the cup, and we've had a little taste of it.
Wembley
"We had a chance of getting to Wembley and everyone sort of got their teeth into it, and I think next year we will aim to go one step further.
"I think if we had got beat in the third or fourth round no one would have been too bothered, but because we got so close that is what is going to kill everyone.
"On the night, it didn't really work for us, but I'm sure we will be back and I'm sure the supporters can sense that there is a good thing going on at the club at the minute.
"The fans have stuck with us through tougher times than this, and if we can go on to finish in the top half of the table, it will be a great achievement and I'm sure everyone will be happy."