Cahill - Moyes is the best
Tim Cahill has hailed Everton boss David Moyes as the best manager around for the job he has has done at Goodison Park
Last Updated: 29/03/12 8:34am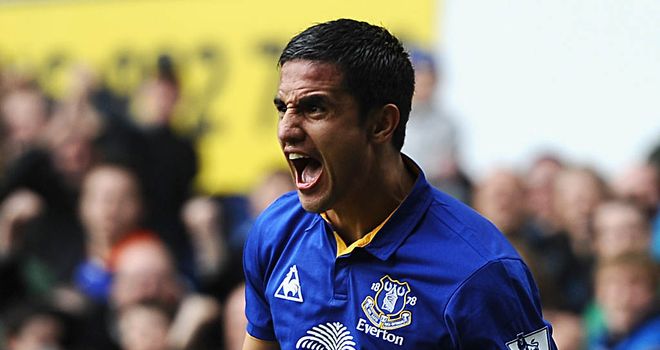 Tim Cahill has hailed Everton boss David Moyes as the best manager around for the job he has done at Goodison Park.
Moyes has helped guide Everton to the semi-finals of the FA Cup and a showdown with Merseyside rivals Liverpool after turning round the club's fortunes following a disappointing start to the season.
Cahill is a huge admirer of Moyes and he feels the Scot deserves unstinting praise for what he has done on such a small budget compared to other clubs.
Best record
"Everyone can put figures on the table, but our manager has got the best record in the world when it comes to spending money and what he does for the club," said Cahill.
"As players, we have to make sure that money is well spent."
Cahill believes the love the players have for the club has played a huge part in establishing a feel good factor and raising expectations.
"We are trying to take ourselves to the next level and on Tuesday we managed to do that.
"It's an amazing feeling and something so special for this club. It gives everyone a lift," he added.
"The performance is up there with the best of them because of what it means to the fans, the players and the club.
"At the start of the season, the reports were indifferent and there were a lot of people down about the football club.
"But we've had such a turnaround and, as I've said time and time again, the players love Everton and that's what has made a difference."
Unfazed
The hype has already started to begin around the clash with Liverpool at Wembley, but Cahill insists they will not be worrying too much about the prospect of locking horns again with their city rivals.
"It's another massive game for us but we are too experienced to start worrying about them.
"These are the sort of stages where you need the big game players and the experience - and we have got that.
"We just need to believe and take that on to the pitch, just as we did at Sunderland."