McAuley targets 40 points
West Brom defender Gareth McAuley admits he is desperate to reach the 40-point mark as soon as possible.
Last Updated: 30/03/12 1:39pm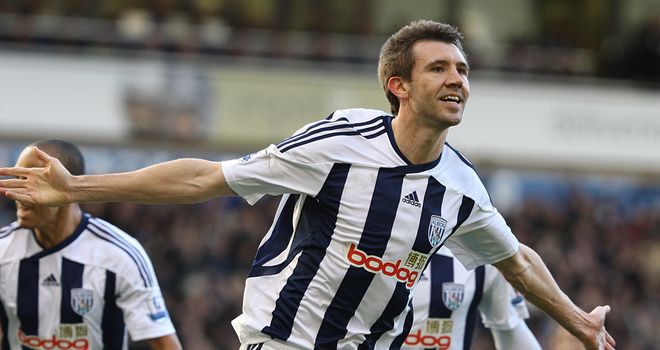 West Brom defender Gareth McAuley admits he is desperate to reach the 40-point mark as soon as possible.
The Baggies are currently on 36 points, with 40 points widely accepted as the total needed to avoid relegation.
Roy Hodgson's side are also 11 points clear of the drop zone with eight games remaining, but McAuley believes his side cannot become complacent in the run-in.
He said: "People from outside can say that (we are safe) but we're not happy with 36 points.
"We don't want to find ourselves scrapping away for a couple of points later on, we want to get to that 40-point mark then go past it and try to finish off in style."
West Brom are on a three-match winless run which has come immediately after a three-match winning run.
After eye-catching results against Wolves, Sunderland and Chelsea, the Hawthorns outfit have since lost to Manchester United and, most recently, Newcastle.
They were 3-0 down to the Magpies by half-time last Sunday, with Shane Long grabbing a consolation goal in the second half.
They face tough away fixtures before the end of the season, with a trip to Everton to come on Saturday.
Games at Manchester City and Liverpool follow the visit to Goodison Park, before facing Bolton in their final away game of the campaign.
But McAuley feels as though his side need to regain the form that saw them climb the Premier League table by going back to basics.
Basics
He added: "We need to get back to basics and start doing the things we were doing before.
"We haven't changed an awful lot in training this week but we have worked on things that we need to do defensively, to put that Newcastle game behind us and get back to what we were doing successfully.
"We didn't perform in the last couple of games. We didn't do the things we need to do to get points and the general feeling in the group is that we want to move forwards.
"We know that if we're going to do that we need to get back to the standards we set a few weeks ago.
"The Newcastle game was really disappointing because we conceded goals that we shouldn't have conceded.
"Earlier in the season we conceded a few goals to counter-attacks and we worked hard on the things we needed to do to avoid that, so it's frustrating that we let it happen again.
"We conceded an early goal and we went chasing the game too early. There were 80 minutes left to get ourselves back into the game but we tried to get the goal back straight away."