Baggies reveal Jelavic interest
Assistant Keith Downing has revealed West Brom were keen on signing Nikica Jelavic in January, but the striker was 'out of their reach'.
Last Updated: 30/03/12 2:12pm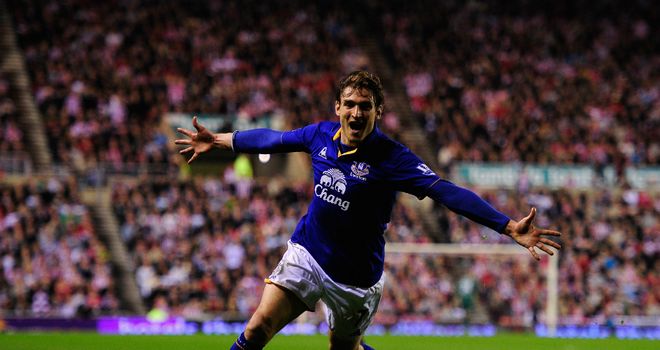 West Brom assistant Keith Downing has revealed the club were keen on signing Nikica Jelavic from Rangers in January, but the striker was 'out of their reach'.
The Croatia international left the SPL club on transfer deadline day for Everton, who host the Baggies at Goodison Park on Saturday.
Jelavic has proven an astute signing by Toffees boss David Moyes, scoring three goals in just five starts for the club.
His success comes as no surprise to Downing, who revealed West Brom manager Roy Hodgson went to watch Jelavic in action in an Old Firm derby in January.
The Hawthorns club were unable to seal a deal for the 26-year-old but will know all about his talents when they come face-to-face with him at Goodison at the weekend.
"Jelavic is dangerous in the box, gets into good areas and is a finisher - all the things we saw in him," Downing told the club's official website.
"He also holds the ball up and brings people into play.
Reach
"We'd have liked to have considered him - but he was out of our reach."
The Baggies go into the match hoping to bounce back after a 3-1 home defeat to Newcastle last weekend made it three games without a win.
Downing admitted his side are also keen to gain revenge on Everton after two last-gasp defeats to the Blues already this season.
The Baggies were leading at Goodison in a Carling Cup tie in September but conceded a 87th minute goal to Marouane Fellaini before eventually losing the tie in extra-time.
Nigeria striker Victor Anichebe then scored an 89th minute goal in a 1-0 Premier League victory for the Toffees at The Hawthorns on New Year's Day.
"We want to get a result against them," added Downing.
Snatch
"We lost up there in the cup after leading with a minute to go and then saw them snatch victory at our place.
"I've seen them recently and I think they have improved since their last game at our place.
"But we've got to snap back into it and say 'we didn't do well on Sunday, we didn't do great at Wigan, it is about time we got back on track'.
"We need to talk about performances first rather than results. Let's get back to putting in a good performance."