Crouch - We thrive on criticism
Peter Crouch has revealed that Stoke feel stronger every time somebody complains about their style of play.
Last Updated: 31/03/12 12:13pm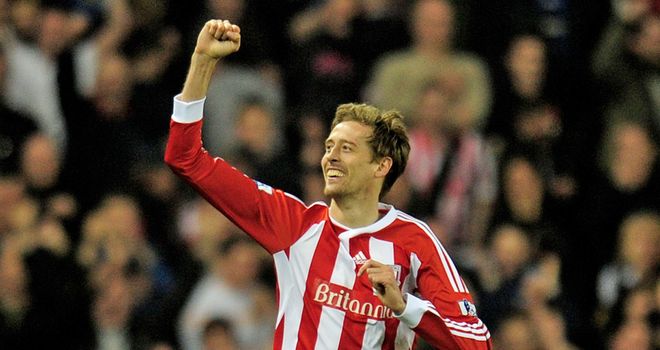 Peter Crouch has revealed that Stoke feel stronger every time somebody complains about their style of play because it shows they are making life difficult for opponents.
The Potters have established themselves as a force to be reckoned with in the Premier League over the past few years but they have received criticism at times for a direct, physical approach.
Crouch believes visiting teams get annoyed because they think they should be winning at the Britannia Stadium and he sees no reason to change.
"The criticism the club gets is unfair," he said in the Daily Mail. "But what annoys big teams is the fact that they might get beaten by us.
"They look at the Britannia and expect to get a result, and they get upset when it doesn't go their way.
"We love that. It's us against the world and every time teams complain like that it makes us stronger.
"We won't start making it easy for the opposition because someone calls us a rugby team."
Career highlight
Stoke have demonstrated brilliance as well as brawn, though, with Crouch scoring a contender for goal of the season against Manchester City last weekend.
He controlled the ball outside the area before showing expert technique to volley a sensational shot past England goalkeeper Joe Hart, and he admits it was a career highlight.
He reflected: "I've scored some good volleys in my time. I liked the goal against Joe Hart because it was that much more technical.
"I had to control the ball first and then volley it, and that is a skill I practise every day.
'I'm not saying I practise from that distance all the time, and when I do they only come off in training once in a while. But I've always loved volleying balls.
"The more you practise the more chance you've got of executing one in a match."
Coaching
Crouch, 31, believes he can carry on at the top level for several more years but he is also looking beyond the end of his playing career and would like to get into coaching.
"Because I was a late developer I think I can carry on playing for at least another five years," he said.
"I've never relied on pace but, physically, I'm actually getting stronger. But, yes, I think I will do my coaching badges. I feel it would be something I'd enjoy."