Ivanovic delighted for Torres
Chelsea's Branislav Ivanovic feels Fernando Torres's return to form has lifted the whole club.
Last Updated: 02/04/12 7:53am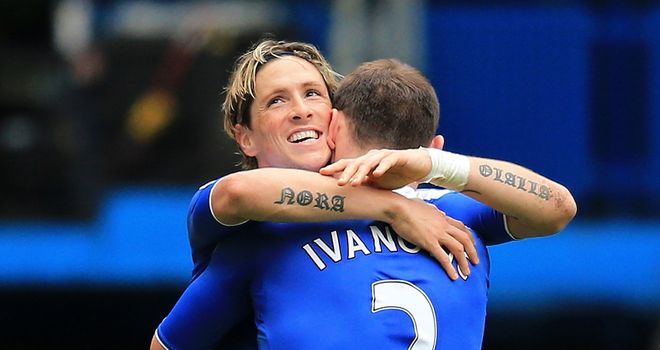 Chelsea's Branislav Ivanovic feels Fernando Torres's return to form has lifted the whole club.
Torres has bagged three goals in his last five games, which included a strike against Aston Villa at the weekend which ended a six-month goal drought in the league.
The Spaniard also played a hand in Chelsea's other three goals against Villa, and Ivanovic feels his impact in recent games has been a massive boost to the club.
"It was an important goal for him. Fernando has been going well and playing well all over the pitch," he said.
"He's been doing everything for the team and I think he deserved that goal. He is a great player. Of course he has felt the pressure and so it was important for us to support him.
"We know how good he is. We've seen that every day in training. But at the same time, for him to score a goal was very important.
"But for us, we know how much he has given us. He doesn't just play for himself but he plays for the team.
"After the game, he didn't really say anything. But I went up to him and said: 'Thank you for the two assists!"'
Champions League
Chelsea's attention now turns to Wednesday night's second leg against Benfica at Stamford Bridge when they will be expected to progress into the last four where either Barcelona or AC Milan await.
Following a disappointing campaign few would expect the Blues to progress much further, especially should they meet Barca, but Ivanovic thinks that may work in their favour.
"If people think like that it can be good for us because we will feel less pressure, which in games like this can be very important," he said.
"But we have to go game by game and prepare everything. We will see how we go.
"In truth, the story before the game is not that important. What matters is the story of the game, the matches themselves, and we have to be focused on that.
"Wednesday is a huge game for us. It is a big opportunity and a big chance. We got a great result in Lisbon but it is not over because they don't have anything to lose.
"We have to be careful and ready for what we need to do."