Boro to stand by skipper
Middlesbrough have pledged to stand by captain Matthew Bates, after his latest injury setback.
Last Updated: 02/04/12 1:59pm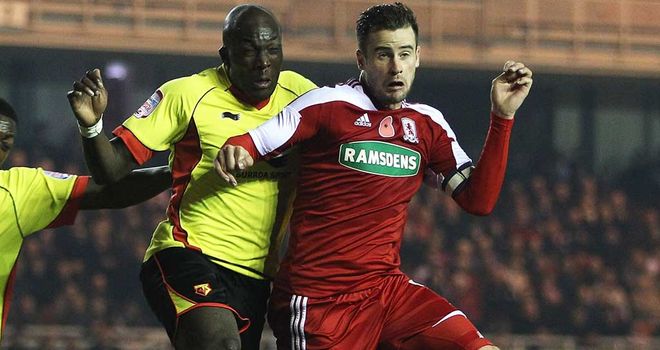 Middlesbrough have pledged to stand by captain Matthew Bates, after his latest injury setback.
Bates is set to undergo surgery on his knee after suffering a cruciate ligament injury for the fifth time in his career.
Boro have yet to confirm the extent of the 25-year-old's injury, only saying he would be facing a 'long spell' out.
Bates' situation is complicated by the fact he is out-of-contract in the summer, and it looks like he will not be playing again until next season.
But Teesside-born Bates has been reassured by Boro that they will stand by him throughout his rehabilitation.
"It's obviously a bad injury and Matthew has been over the course before," said Tony Mowbray.
"He will know what's required and what he has to do because he has done it time and time again.
"We wish him well in that quest to get himself fit again and obviously the club will support him in any way that we can.
"I wish him well. I was fortunate throughout my playing career not to have any serious injuries really, and for Matthew to battle through over a number of years to overcome injuries, we just wish him well in the next period."
Contract
Mowbray admitted Bates' contract situation was something they would look at when appropriate.
"He is out of contract at the end of the season and yet the football club will be there to supply him with all of the facilities and the medical support and encouragement that is required," Mowbray continued.
"Beyond that, when he is fit we have decisions to make and I suppose the football club financially is in a situation where, if we don't get out of this league, we will have to reduce the wage bill quite significantly again.
"They are decisions to be made at the time, I think, about what is going to happen.
"I would reiterate that the club is going to be fully supportive in making sure Matthew has all of the facilities required to get himself back to full fitness."