Jagielka wary of ex-factor
Phil Jagielka has warned his Everton team-mates they will have to be at their best if they are to beat John Ruddy.
Last Updated: 04/04/12 5:20pm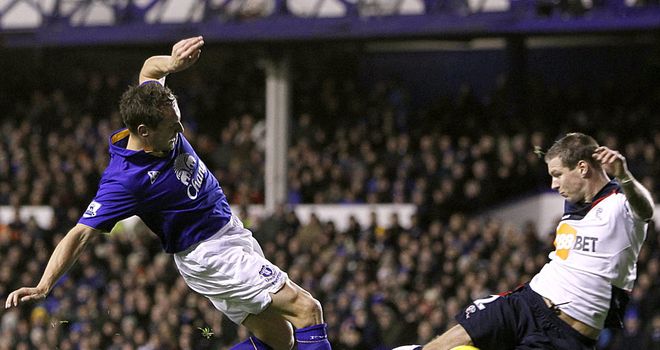 Phil Jagielka has warned his Everton team-mates they will have to be at their best if they are to beat Norwich's John Ruddy at Carrow Road on Saturday.
Everton have hit some hot form in recent weeks and are aiming for a fourth consecutive win against the Premier League new boys, who are performing beyond all expectations in mid-table.
January signing Nikica Jelavic looks to have settled in well alongside Tim Cahill up front since his move from crisis club Rangers.
But standing in their way will be former Everton goalkeeper Ruddy, who moved to Everton in the summer of 2005 for £250,000 but only made one appearance before being loaned out and eventually sold to Norwich five years later.
Limited
And Jagielka fears the 25-year-old will have a point to prove to the manager who let him go from the club where he found his chances limited.
"A lot of bookies and others might have expected them to struggle but they've been flying," said Jagielka. "Their defensive record speaks for itself.
"They've conceded a few goals over the course of the season as everyone does but nobody has had an easy game against them.
"They will attack you - they often play two up front - but he's got them well drilled and they haven't been turned over.
"Grant Holt has scored some important goals while John has done very well.
"When John was here there was never an issue over whether he was a good goalkeeper. He stopped shots and did the rest really well.
Potential
"But he had very good goalkeepers in front of him, and sometimes when you do play a team where you're going to be busy in goal it's easier to keep your concentration.
"If you speak to managers, they'll say the best goalkeepers aren't those that make 10 great saves in a game, it's the ones who make one or two.
"Man United have been through quite a lot of goalkeepers because they've bought guys who are good shot stoppers, but haven't maybe saved the key ones in games.
"John had to go out and play a lot of first-team football to realise his potential. Now his concentration has got a lot better.
"In goalkeeping terms, he was a baby here, and he's still a young man but he's grown into it. His kicking is great, he's a big boy and he has always been a good shot stopper."