Bent philosophical over rehab
Darren Bent admits his injury frustration has been put into perspective by Fabrice Muamba and Stiliyan Petrov's health problems.
Last Updated: 05/04/12 10:41am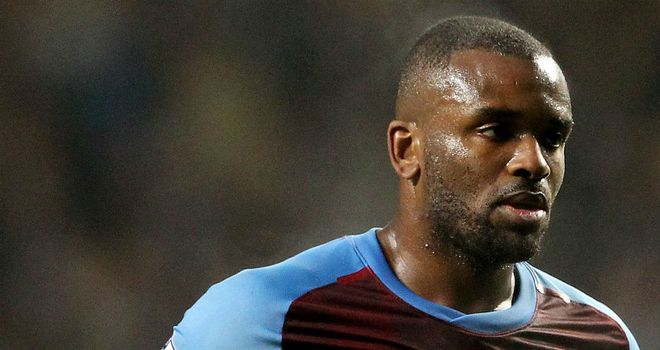 Darren Bent hopes to take part in the Olympics if he misses out on Euro 2012 but admits his injury frustration has been put into perspective by Fabrice Muamba and Stiliyan Petrov's health problems.
Bent has been sidelined since February with ankle ligament damage and is battling to regain fitness before the end of the season to give himself a chance of playing for England in Poland and Ukraine.
But he admits he has no right to complain when other Premier League players are showing such strength of character in fighting for their lives.
Bolton midfielder Muamba is doing well in hospital after suffering a cardiac arrest at Tottenham, while Bent's Aston Villa team-mate Petrov has vowed to beat acute leukaemia after being diagnosed last week.
Bent has been impressed by the way both men have faced up to their troubles and hopes they can make full recoveries.
"It certainly puts everything into perspective for me," he said in The Sun.
"I'm sitting here worrying if I'm going to be back playing again in eight weeks' time while Stan and Fabrice are fighting for their lives.
"How can I get all beat up about my problems when those guys are fighting tooth and nail to survive?
"That's why I'm praying every day they are on the mend again very soon."
Bent added: "We are all so used to football fans being criticised. But so many have come together and are supporting the two lads.
"I must admit it's all brought a lump to my throat."
Back-up plan
While Bent insisted earlier this week that he is 'on the mend' and would still love to play at Euro 2012, he has a back-up target to be involved in the Olympics.
"Of course I want to be out there helping but it doesn't look like I'll play again this season," he said.
"That means I'll probably be missing the Euros too, so it's a big blow.
"The time-frame for the injury takes me to 16th May by which time the ankle will be fully healed and my rehab completed.
"I'd just say to the new England manager, whoever it is, give me a chance.
"Then it will be down to whether he does take a chance on me, at least in one of the warm-ups."
Bent added: "If Euro 2012 doesn't happen for me I'm definitely up for playing in the Olympic Games.
"It's a massive event and it doesn't come to your home town but once in a lifetime. It would be ridiculous to give up the opportunity."