Ferdinand - QPR are buzzing
Anton Ferdinand has revealed QPR are 'buzzing' ahead of the trip to Manchester United and thinks the relegation-battlers can cause an upset.
Last Updated: 05/04/12 3:25pm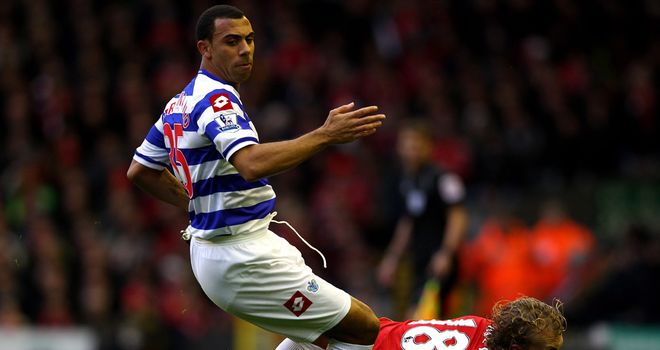 Anton Ferdinand has revealed QPR are "buzzing" ahead of the trip to Manchester United and thinks the relegation-battlers can cause an upset.
Rangers were seen as odds-on for the drop as they entered a tough run of games but victories over Liverpool and Arsenal have changed the mood at Loftus Road.
And the 27-year-old defender knows that even a trip to Old Trafford need not mean certain defeat for the Londoners.
"Our whole team is buzzing after beating Arsenal and climbing out of the relegation zone," Ferdinand told the London Evening Standard.
"Even if it's just on goal difference, psychologically, it's important that we're now out of the bottom three.
"Although we can't worry about other teams, United did do us a favour in beating Blackburn on Monday. I watched that game and we should have no fear going to their place.
"One of the highlights of my career was going there in 2007 with West Ham and beating them to stay in the Premier League. It was fantastic. We defended for our lives - not many people keep a clean sheet there let alone win the game. Results like that show it can be done.
"Of course, if someone offered me a point now, I'd take it all day long. We know it's a difficult place to go but we have shown at Loftus Road that we are tough to beat and we have to take that mentality into the away games now."
Taarabt is key
Ferdinand has no doubt that avoiding the drop is as much a mental challenge as a question of ability. And he feels QPR's improvement is personified by the improved form of Adel Taarabt.
Ferdinand added: "When it comes to a relegation battle, it is not about form. It's about mentality. As long as we keep it tight at the back, there's no reason why we can't unlock their defence at the other end, especially with Adel Taarabt finding his best form.
"He's taken a lot of stick this season but his goal and all round performance against Arsenal proved he can cut it in the Premier League.
"At the time when we needed him to start showing his best form, he is doing that. He is tracking back and working hard as well as being influential on the ball. He could be one of the reasons why we stay in the Premier League if he can deliver the same level of performance for the rest of the season.
"Adel has bags of talent and it's amazing it took him that long to score his first goal in the top flight. He's always difficult to face in training and I know he can cause problems for even the most assured of defenders."
Sibling rivalry
Sunday also brings the now familiar meeting of the Ferdinand brothers. And while Anton is close to his elder sibling, relations tend to cool with Rio as match-day approaches.
"As long as we're both fit, Sunday should see me face my brother Rio again," added Ferdinand.
"We talk all the time but in a week leading up to a game against each other, there isn't much contact at all. That's normal - we are both professionals and are focused on getting the points for our own team.
"We both want each other to do well. I know he wants to see me in the Premier League next year with QPR and I want to see him lifting a trophy."