Keeper conundrum for O'Neill
Martin O'Neill may hand forgotten goalkeeper Craig Gordon the chance to prove he is worthy of a new contract at Sunderland.
Last Updated: 06/04/12 1:09pm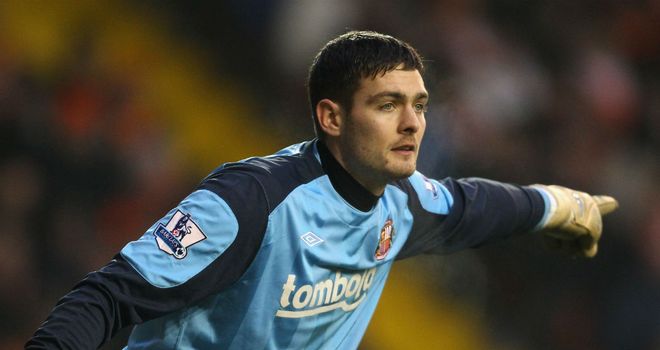 Martin O'Neill may hand forgotten goalkeeper Craig Gordon the chance to prove he is worthy of a new contract at Sunderland.
Scotland international Gordon has not played for Sunderland in well over a year after suffering a knee problem and returning to find his route to the first team blocked by both Simon Mignolet and Keiren Westwood.
The 29-year-old sat on the bench six times while Westwood recovered from a wrist injury, but the Republic of Ireland international resumed his back-up role to Mignolet last weekend.
Gordon's five-year deal expires in the summer and the Black Cats boss wants to see the £9million man in action before making a decision whether to offer the player a new contract.
With Sunderland out of the FA Cup and safely in mid-table, O'Neill could give Gordon some match action in the remaining seven games but is aware that it is a tricky balancing act.
Three goalkeepers
O'Neill told The Shields Gazette: "I've got what I consider three really fine goalkeepers at the football club.
"One, Craig, is recovering from a long-term injury and genuinely, before the end of the season, I would like to see what he can do.
"The goalkeeping position is one which does cause you a problem. It's not as if I can switch him from right-back to left-back.
"Craig is nearly about there in terms of full fitness, but the only way you can check is by putting him into the team.
"It's a situation I'll monitor before the end of the season, particularly with Craig's contract coming up.
"But if he's fully fit, then really he should be in a strong bargaining position anyway. He needs to play, though."
Westwood, a summer signing from Coventry, held the goalkeeping spot when O'Neill first arrived but lost his place through illness.
Grasped his opportunity
Belgian international Mignolet has grasped his opportunity by producing an impressive string of displays, despite conceding three times at Manchester City last weekend.
"Keiren Westwood lost his position through illness so he could consider himself unlucky," added O'Neill.
"Mignolet has done very, very well and I've been very pleased with him.
"I don't think he could do anything about the two late goals at Manchester City.
"He's beating himself up because apparently he was getting a bit of criticism in Belgium and he was very disappointed.
"Seamus McDonagh (goalkeeping coach) was full of praise for him in the game and Simon said he was pleased because he had taken some stick."