Hughes: United will win title
Mark Hughes believes Manchester United will win the title this year, but is determined to cause an upset when his QPR side visit Old Trafford.
Last Updated: 06/04/12 4:07pm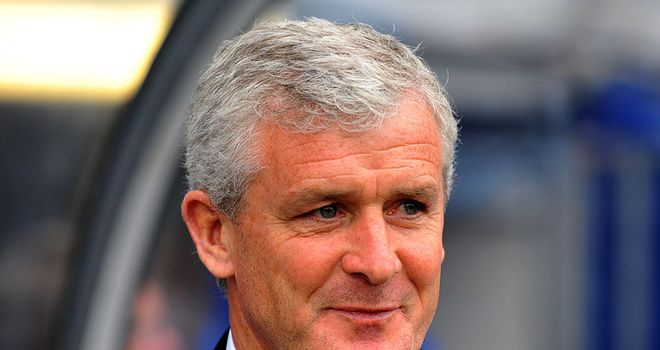 Mark Hughes believes Manchester United will win the title this year, but is determined to cause an upset when his QPR side visit Old Trafford.
The former United striker feels that having overhauled Manchester City's advantage and opened up a five-point gap with just seven games remaining, the Red Devils' experience will see them defend their title.
A win on Sunday would be United's eighth successive league win and open up an eight-point gap at the top, but the former City boss is hoping QPR can end that run.
"I think at this stage of the season there is a little bit of a sense of inevitability," Hughes said.
"United have been in this situation so many times before, City haven't and I think that can be key in this situation.
"You sense that United are looking at fixtures, taking each game on its merits and just ticking off games they have to play from now until the end of the season.
Performance
"Obviously we're hopeful that we're going to have a performance that will upset that plan in terms of what United expect from the game.
"That is certainly our intention and we're not just going there to lie down and lose the game.
"Our intention is to get something out of the game because of the situation we find ourselves in.
"We'll make it difficult for them but certainly sense that, because of the situation and the turnaround that has occurred, United are in the box seat.
"You would be very surprised if they lost it from the position they find themselves in now."
Confidence
QPR head into the game with renewed confidence after a shock 2-1 win over Arsenal which moved them out of the relegation zone on goal difference.
"The three points was the main thing but the pleasing part from my point of view was the manner of the performance," Hughes added.
"I think from start to finish it was a good, solid performance and we had a good understanding of what we had to do to go and get a result against them.
"The lads went out and performed to the letter so really, from my point of view, we have to keep on replicating that and the application that we showed.
"The determination to see the game through to its conclusion was there for everybody to see so if we show that in the games we have remaining, we will pick up more points, which is obviously the order of the day."
Options
Hughes' attacking options will be bolstered for the trip with top scorer Heidar Helguson and DJ Campbell both available again after two months on the sidelines with groin and hamstring injuries respectively.
"They are in the squad and are available," the Welshman said.
"They have obviously had more work this week and they are an option.
"DJ is probably a little more ahead than Heidar because he has had a couple more weeks training, but they are both available."