Hoolahan still Euro dreaming
Wes Hoolahan is refusing to give up on making the Republic of Ireland's 23-man squad for Euro 2012.
Last Updated: 06/04/12 10:48pm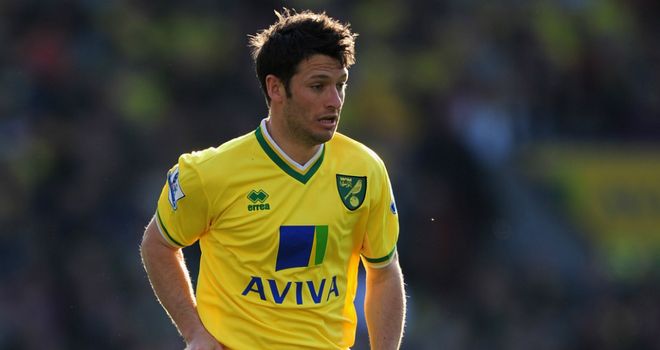 Wes Hoolahan is refusing to give up on making the Republic of Ireland's 23-man squad for Euro 2012.
The 29-year-old has impressed for Norwich this season, but has not featured for the Republic since winning his only cap against Colombia in 2008.
Despite appearing not to be a part of Giovanni Trapattoni's plans, the midfielder is hoping a strong end to the season will see him force his way into the Italian's thoughts.
"It's simple really, I just hope that if I keep playing for Norwich, and playing well, the call-up might come," Hoolahan told the Dublin Evening Herald.
"I heard that Trapattoni came to Norwich against Wolves the other week. I played well and a few of the papers named me as man of the match so maybe he was impressed.
"I haven't given up hope, you can never stop dreaming.
"Players might pull out, you might have an injury or two and I am realistic enough to know that I would need something like that to happen for me to make the squad.
"The squad that the manager has at the moment is the one he will pick for the finals, that seems fairly clear, but you can never say never."
Dublin-born Hoolahan, who started his career at local club Shelbourne, feels that he is in the best form of his career after helping Norwich win back-to-back promotions and establish themselves in the Premier League.
"It's probably the best spell I've had in my career, since I went away to Britain at 24 years of age," added Hoolahan.
"Playing in the Premier League, playing every week and scoring a few goals, it's been a great season for me on a personal level.
"I have a bit of security here as well, I have two years left on my contract.
"I am settled here now, I have been here four years and I love it. It's the longest I have been at a club since I left Shels, so it's good to be settled.
Captain
"I got to captain the team as well and that was a big honour, to captain a team in the Premier League in England."
The Canaries face a tough Easter with a home tie against Everton on Saturday, before travelling to third-placed Tottenham, but Hoolahan is confident Norwich can finish the season strongly.
He said: "At the start of the season, the aim was to stay in the league and if we'd finished a point above the relegation zone, we'd have been reasonably happy, but now that we have done so well in the Premier League we want to push on and finish in the top half.
"It's a good place to be now, Norwich. The whole club is buzzing, to have done so well in our first year back in the Premier League is amazing and we're only a win or two away from being automatically safe.
Aim
"That's still the main aim. We're not safe yet and securing our place in the Premier League is the main aim.
"But we won't stop playing if and when we achieve safety, we'll keep playing until the last game of the season and try to finish as high as we can."