Samba's frustration
Christopher Samba has revealed his heartbreak at the racism he is receiving playing in Russian football.
Last Updated: 08/04/12 10:48am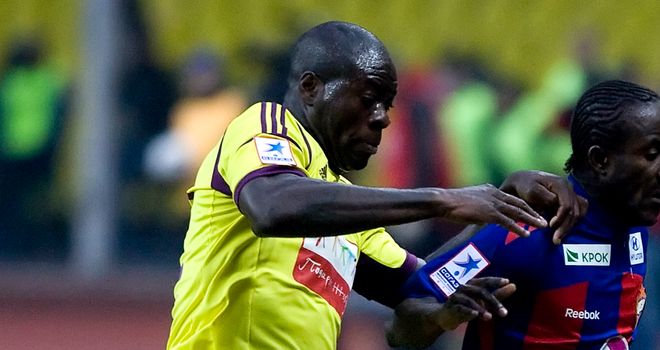 Christopher Samba has revealed his heartbreak at the racism he is receiving playing in Russian football.
Samba quit Blackburn and joined big-spending Anzhi Makhachkala earlier this year.
But the Congolese defender has been subject to horrible scenes of racism, including having a banana thrown at him.
"I try not to dwell on racism. I just want to believe that the problem doesn't exist on a global scale," he told The People.
"Maybe I'm mistaken but I want to believe that's the case.
"But the incident over the banana was the saddest thing that has ever happened to me in my football career. I was absolutely shocked.
"I did not expect it and did nothing to provoke it.
"It was humiliating, I almost felt like crying.
"I think it's a very sad day for football when things like this happen. It's unacceptable and racism shouldn't exist at any level of society.
"I have absolutely no idea who threw the banana. They say they have identified the culprit and, if they have, they should sanction them with the greatest of severity for the good of football.
"Lokomotiv Moscow tried to defend themselves and to a point I can understand that. But there is no doubting that someone threw the banana and should be held accountable for their actions.
"I think it's a very sad day for the game. What sort of example is that? It is an awful image to be seen by children.
"These things have to be stamped out immediately - they can't be allowed to continue.
"I accept racism isn't isolated to Russia and, to some degree, it is everywhere in the world.
"But I have been fortunate in my football career, I have never had to deal with this before.
"I never felt discriminated against in France or in England, it wasn't something I was ever confronted with or had to deal with. They say in Moscow there are not many black people, so it's more of a prevalent problem but that doesn't make it right, does it?
"Fortunately, I live a normal life here and the incident hasn't left me feeling threatened.
"My club have been very supportive and so have my team-mates.
"Samuel Eto'o and Roberto Carlos have lived through similar experiences and they were the first to tell me to rise above it all.
"Eto'o said an African can't get depressed if someone throws a banana at him. And the manager - Guus Hiddink - just told me to ignore it because he knows Russian football and the real fans are not like that.
"I am not going to dwell on it. I am not a person that lives with fear, so I am not going to get depressed about it.
"Africans are very resilient and we know how to get over adverse situations.
"In Russia, there are clubs with supporters that get very nasty in front of rival players whether they are white or black.
"There are shouts and chants but I prefer to forget it and concentrate on the game.
"Besides, I don't understand what they are saying because I don't know Russian."
No regrets
Despite the racism, Samba insists he is not thinking about quitting the club, adding: "The Russian league is growing at a phenomenal rate and starting to attract more foreign players.
"It's become far more competitive in a short space of time. But it still has a long way before it can compete with the Premier League.
"I have been accused of coming for the money - but that simply isn't true. I was excited by the challenge that was presented to me - it's a great project.
"Besides, there were rumours of various interest from other Premier League clubs. But this club was the only one that had an offer accepted for me."