Bocanegra - Too big to go bust
Carlos Bocanegra believes Rangers are too big a club to go out of business, despite their debt crisis.
Last Updated: 09/04/12 3:19pm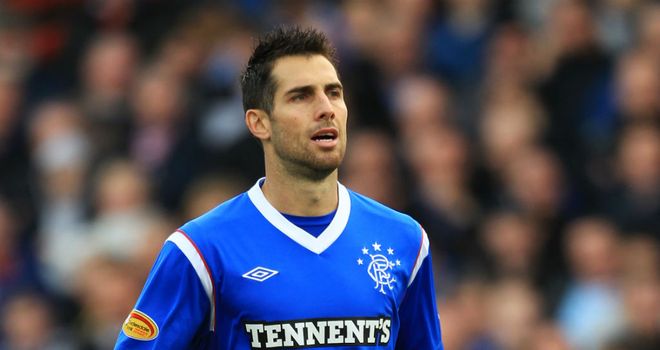 Carlos Bocanegra believes Rangers are too big a club to go out of business, despite their debt crisis.
Three bidders are fighting it out for control at Ibrox, including Bocanegra's fellow countryman Bill Miller.
And the American defender admits he did not realise how big Rangers' global fan base was before joining the Glasgow club.
"We've heard about different forms of liquidation, different versions of whether you're able to keep the history. If this club loses its history, it's a sad day," he told the Daily Record.
"Rangers come into the same category as the big English clubs under American ownership, definitely. It's a huge brand, a global brand. People are very, very interested in it.
"It's an intriguing possibility getting involved in Rangers because it's such a big club. Since I've been here I've realised how passionate the fans are and how deep the roots run.
"It's not just them who support the club, it was their fathers, their grandfathers, their grandfathers' fathers.
"I'm realising just how big the club is around the world. Wherever you go, somebody is a Rangers fan. It's pretty cool. I didn't realise the club was that big.
Potential
"There is untapped potential in America. Whoever the new owner is will realise how big the brand is.
"The EPL is popular back home, they show four or five games a weekend - and usually before the big NFL games which is the biggest televised sport, the biggest TV contract in America. It's becoming more mainstream and that's a possibility for people to tap into.
"I don't know why American ownership of UK clubs has become so popular. I know the guys from Aston Villa and the Liverpool group are interested, they see how big soccer - or football - is and they feel they can grow it to the next level, worldwide.
"The corporate American dollar is probably something they think they can get their hands on and utilise that as a factor in growing the company.
"Football is such a global sport and people are realising that in America. Ten years ago, you couldn't catch a Premiership game on TV. Now you can watch more games there than you can here on a weekend."
Checks
After the disaster of Craig Whyte's ownership plunging the club into £134million of debt Bocanegra knows it is important that a potential new owner is thoroughly checked out, particularly as Miller has a history of failed sporting ventures.
"I don't know anything about the guy. There is so much in the papers about who is going to take over it does my head in," he said.
"It's hard because you hear about so many people. Once it becomes official I'll get more excited. I would like the whole thing to be over yesterday.
"But it's a big corporation, a big company. I understand people need to do due diligence, get information and make a smart decision before they buy the club."