Warnock pledges Leeds overhaul
Neil Warnock is vowing to transform his Leeds United side after the Whites slumped to another miserable home defeat.
Last Updated: 09/04/12 6:42pm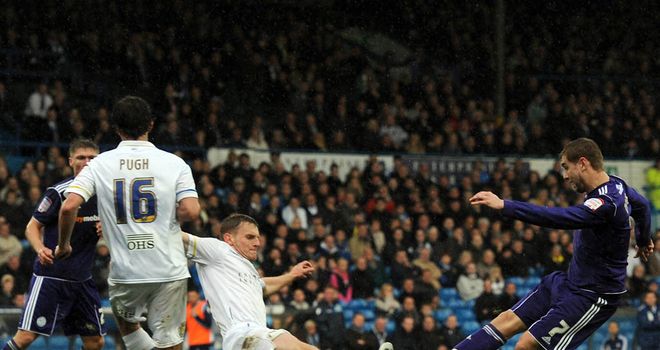 Neil Warnock is vowing to transform his Leeds United side in the summer after the Whites slumped to another miserable home defeat.
United's 2-0 loss to Derby was the side's 10th home defeat of the season, with goals from Craig Bryson and Steven Davies confirming their position of Championship also-rans.
Warnock has spent the last seven weeks running the rule of the squad he inherited from Simon Grayson and now feels changes are a must.
"The end of the season can't come quickly enough," he said.
"I said to (Derby manager) Nigel Clough at the end, 'Enjoy this, Nigel, because you'll never see another Leeds United team or a Neil Warnock team like this'.
"We had a lot of players playing today that know they won't be here next season. We've not got enough Leeds United-type players.
"We don't revel in the atmosphere and that's what we will do next year. We will revel in it."
Friday's 2-0 defeat at Reading saw United receive criticism in some quarters, with their robust, tough-tackling display.
Michael Brown did his best to add to that, getting sent off 26 minutes in for a studs-up tackle on Theo Robinson.
Although Warnock felt referee Oliver Langford was right to dismiss the midfielder, the Leeds boss was unhappy with the official for comments he claims were made before kick-off.
"I don't think you can complain about the sending-off," Warnock said.
"We all saw (Manchester City striker) Mario Balotelli's tackle at the weekend and I think refs have been watching it. You don't have to put them in that situation and Michael is wrong to do so. Putting his foot high gave him an excuse.
"But the referee said to Danny Pugh in the tunnel before the game, 'I saw your game on Friday'. I think that's pre-meditated, totally wrong and out of order."
The win was Derby's sixth in 10 matches and, had they had more than four games remaining, a play-off push may not have been out of the question.
They are five points shy of sixth place as things stand, with Clough preferring to look ahead to next season.
"I want to try to keep these lads together," Clough said. "Two or three of them are out of contract. I want to try to keep them and the spirit together and take the confidence into next August.
"If we had another four games, maybe (the play-offs would be an option), but we might just run out of time."
Clough also hinted that he agreed with Langford's decision to dismiss Brown, adding: "We are 40-odd yards away and can see a raised foot, the referee is four yards away.
"It looked a bit similar to the tackle Mario Balotelli made yesterday and didn't get sent off for."