More to come from Lambert
Southampton boss Nigel Adkins warned Rickie Lambert can get better, while Palace's Dougie Freedman also praised the 30-goal striker.
Last Updated: 09/04/12 6:57pm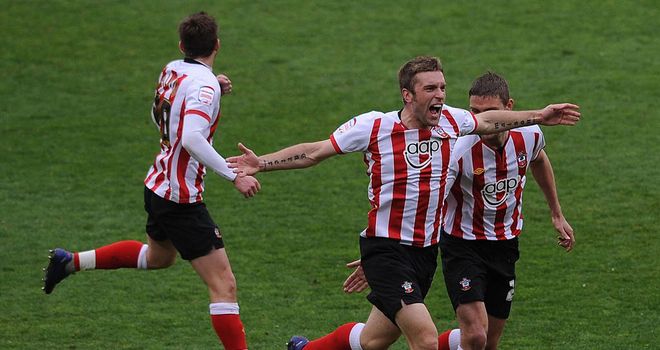 Nigel Adkins warned Southampton's rivals there is more to come from Rickie Lambert, while Crystal Palace boss Dougie Freedman admitted the 30-goal striker was the difference.
The Championship's top scorer on Monday netted either side of half-time to fire the leaders to a 2-0 win and a step closer to the Premier League.
Lambert has now hit 87 goals in three years for the South Coast side and the prolific 30-year-old, who has spent his entire career in the lower divisions, looks certain to finally get a crack at the top flight.
"I'm pleased with the whole group, although obviously Rickie Lambert scored two very good goals," said Adkins.
"We have played some really good football this season, we create opportunities and we need someone to put the ball in the net.
Rewards
"He's a talented, talented football player and he's at a good place. Southampton has a great culture and is a great place for a player to become the best they can be.
"He's going from strength to strength and he's reaping rewards for his hard work this season."
Saints' next outing is at home to second-placed Reading, when they could take a huge stride towards lifting the Championship title.
Adkins added: "It's 42 games gone and four to go. We've been in the top two for the whole campaign and the next game we are presented with is Reading.
"We've come out today and got the three points and it's still one game at a time."
Bitter pill
Meanwhile, Freedman believes Lambert has the ability to score goals in the Premier League.
The Palace manager admitted: "Rickie Lambert was the difference.
"He has experience and if I was a betting man I'd say he'll produce a few goals in the Premier League.
"The first goal was against the run of play and was a bitter pill to swallow.
"But I'm very happy with our performance. We gave it a right good go with six youngsters against a top team."