Enrique - No guarantees
Liverpool defender Jose Enrique insists that nobody can be assured of their first-team place at Anfield.
Last Updated: 10/04/12 9:34am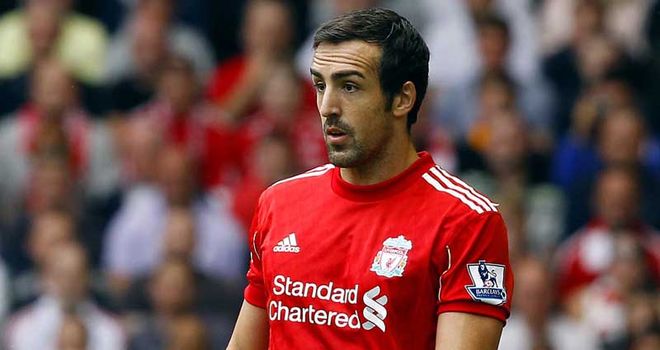 Liverpool defender Jose Enrique insists that nobody can be assured of their first-team place at Anfield.
The Reds have won just two league matches in 2012 and have taken just nine points from 13 games.
Indeed, Kenny Dalglish's Carling Cup winners are now in danger of dropping into the bottom half of the table.
Many of Liverpool's new signings have been singled out for under-performing, although Enrique has been seen as one of the few bright points.
But the Spaniard admits that nobody is immune from being dropped.
"It has been difficult in the league and not just the last few weeks, the last
few months," said the left-back.
"Everyone can improve because when the team doesn't work in the league no one is safe.
"We are motivated because we know we are creating chances and doing well but the problem is we are not scoring many goals.
"In the league we know we have to finish as high as possible."
The major concern in their league form has come at Anfield, where they have won just five and drawn nine of 16 matches.
Enrique stressed that was the first point which needed to be addressed for next season.
"It is frustrating because at home teams who come here have to have fear because they play against Liverpool and we have dropped many points here," he added.
"The important thing is we have to think that next season this cannot happen, we have to be stronger at home - and away too - but at home we have to get more points."
Critics
However, Enrique disagrees with the critics who claim Liverpool's season has
been a poor one.
He won his first trophy since arriving in England in 2007, when he signed for Newcastle, in February's Carling Cup triumph over Cardiff.
That guaranteed Europa League football next season and with an FA Cup semi-final to come against Everton on Saturday the 26-year-old admits, from a personal point of view, his Reds career has begun well.
"The truth is we already have a cup in our pocket," said Enrique.
"We wanted to play in the Champions League next season but that alternative is already finished.
"But we are in the Europa League next season and that is not that bad.
"It was not the target, because we wanted Champions League, but we have won a title and no one can say we have won nothing this season.
"Of course we are playing for another one (the FA Cup). It is important we take another one - two titles in one season would be amazing.
"I came here to win titles and to play for good things and I have one (trophy) and we play the Europa League, which I have never played.
"At the moment it is a great year for me but I want to play Champions League, this is the best."