Anichebe keen to be involved
Everton forward Victor Anichebe is desperate to play some part in Saturday's FA Cup semi-final against Liverpool.
Last Updated: 12/04/12 9:49am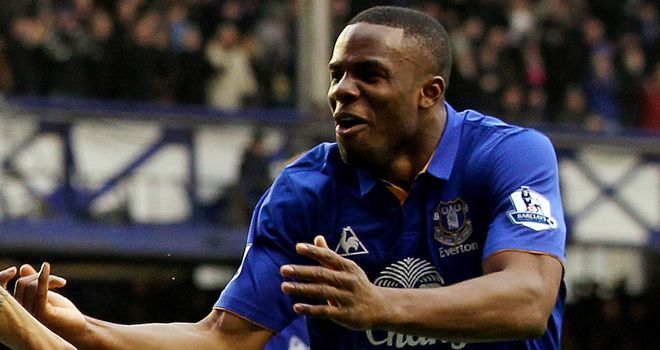 Everton forward Victor Anichebe is desperate to play some part in Saturday's FA Cup semi-final against Liverpool.
After being forced to watch the Toffees' run to the FA Cup final in 2009 from the sidelines Anichebe is eager to get a taste of the action this time.
The 23-year-old missed almost a year of football after suffering a serious knee injury in a tackle by Kevin Nolan against Newcastle that February, including the 2-1 defeat by Chelsea at Wembley.
Involvement
Injuries have prevented Anichebe establishing himself in the Everton side on a consistent basis since he made his first-team debut as a 17-year-old but he has managed six goals in 14 appearances this season.
The most recent of those came on Monday when he came off the bench to net the final goal in the Toffees' 4-0 victory over Sunderland, one he is certainly claiming despite a big deflection off Jack Colback.
Looking ahead to Saturday he said: "Everyone wants to be part of Wembley, whether you're playing, on the bench or just cheering on the squad. We had a good squad who missed out last time with injuries.
"We had the knee group with me and Jags (Phil Jagielka). Hopefully this time we can be involved whatever way it is and play our part in the game."
Monday's victory was Everton's fourth in five Premier League games and made it four points in three days following Saturday's 2-2 draw with Norwich.
Anichebe praised boss David Moyes for keeping their focus on the league, saying: "This was a really difficult game because we've got the semi-final in our sights and no-one wants to get injured.
"But it's also important we take some good form into the game and that's what we showed. We played some great football.
"Everyone's buzzing but I think the manager and the coaching staff have done a really good job. We had to get these two games out of the way and if everyone was thinking about Wembley I don't think we would have won 4-0 or had a good result against Norwich."
The three points ensured Everton will go into Saturday's clash as the top team on Merseyside, and certainly the form team following Liverpool's woeful run of results.
Crazy
The Reds have won both league matches this season but Anichebe believes none of that will have any relevance come 12.30pm on Saturday.
"That doesn't matter at all," he said. "It's a derby. It's going to be crazy. I grew up in Liverpool. All my friends, red and blue, can't wait for the game.
"Everyone I know is trying to get to the game, begging me for tickets. I think it's a great thing for the city, for both teams to reach the semi-final and whatever happens I'm sure both teams will do the city proud."