Lescott vows to make United wait
Joleon Lescott says Man City will do 'everything in their power' to make sure fierce rivals United do not clinch the title at the Ethiad.
Last Updated: 10/04/12 10:45pm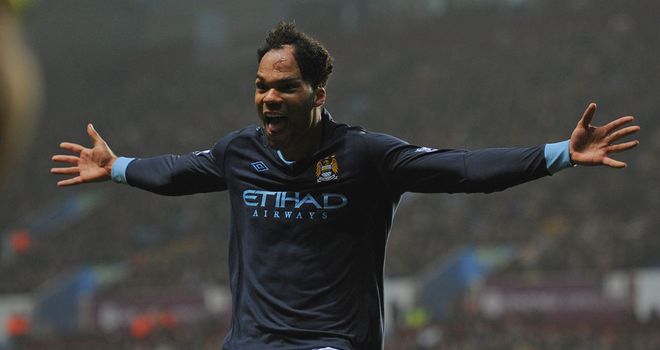 Joleon Lescott insists Manchester City will do 'everything in their power' to make sure fierce rivals Manchester United do not clinch the Premier League title at Ethiad Stadium.
City's hopes of claiming a first league crown in 44 years seem in tatters after a sequence of damaging results over the past month.
Roberto Mancini's men trail neighbours United by eight points at the top of the table with just six games remaining - a month after they held a two-point lead.
But City defender Lescott is determined to fight on and at least ensure United do not leave the Etihad as champions later this month.
Blow
The sides are due to meet on April 30th and only by winning all their games until then, and then beating United, can City at least soften the blow by making their rivals wait until after the derby.
The 29-year-old said: "We don't want to let them win it at the Etihad Stadium.
"We'll do everything in our power not to let that happen.
"It's not going to mean much if we do the double over United and lose the league but I'm sure that when that game comes around everyone will be raring to go."
City have collected just five points from their last five outings with Sunday's defeat at Arsenal seeming the decisive blow.
The full ramifications of that loss - for City and for controversial striker Mario Balotelli, who was sent off and faces a three-match ban - are still to be felt.
Despite that disappointment, Lescott insists Mancini's men must keep pushing as they prepare to host West Brom on Wednesday.
Slip-up
He told the Manchester Evening News: "It's out of our hands but we've got to keep going and if United slip up then we've got to be there to capitalise.
"If they don't, then obviously it's going to be impossible for us to catch them now.
"We're professional and we owe it to the fans that we're not going to roll over and die.
"We've got to apply ourselves in the right way in every game."