Cisse wants fabulous finish
Papiss Cisse thinks Newcastle's momentum could set them up for a stunning end to the season.
Last Updated: 10/04/12 9:11pm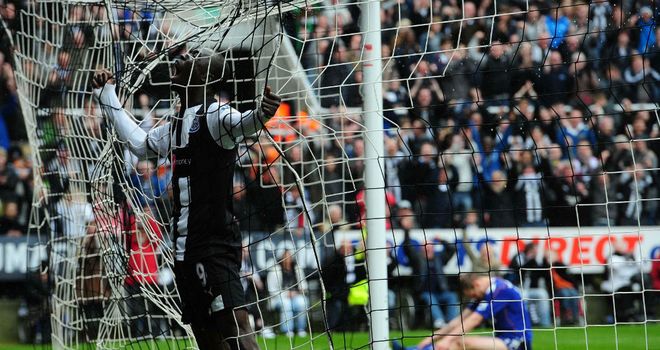 Striker Papiss Cisse thinks Newcastle's momentum could set them up for a stunning end to the season which would conclude with qualification for the UEFA Champions League.
The 26-year-old Senegal international only signed for the Magpies in January and did not make his first appearance for the club until February on his return from the African Cup of Nations.
However, he opened his goalscoring account that day with a winner against Aston Villa and has since not looked back.
His strike in Monday's 2-0 victory over Bolton at St James' Park was his 10th in just nine games and left the Tyneside club sitting fifth in the Premier League with a genuine chance of Champions League qualification.
Manager Alan Pardew later conceded for the first time, publicly at least, that a top-four finish was a possibility, and while Cisse admits the odds are against the club, he is relishing the chance to make it a reality.
He said: "Like the manager says, it is possible, but it is only a possibility.
"We have got five matches left and we have to work really, really hard in the week so we are ready for the weekend, and then we will see if we can get there.
Team spirit
"We have only got five matches left, so we are going to take it match by match.
"But we have really got momentum behind us, so I still think we can do something really extraordinary."
Like Cisse, French midfielder Yohan Cabaye, who turned his back on Champions League football with Lille to join Newcastle last summer, is taking a measured approach to the concluding month or so of a season which has exceeded all expectations.
He said on Tuesday: "The team spirit is good and we just want to keep going, to keep winning. It's good for the team.
"We have one month to go and it is good to go to the training ground to work for something.
"Now we have the Champions League as a target, and it's very, very exciting to play for that.
"We are very, very happy. The results yesterday were great for us. We keep winning and now we are with Tottenham with the same points, so with five games to go, why not?"