Howard calls for focus
Tim Howard insists Everton are not out to settle old scores when they face rivals Liverpool in the FA Cup semi-final at Wembley on Saturday.
Last Updated: 12/04/12 5:39pm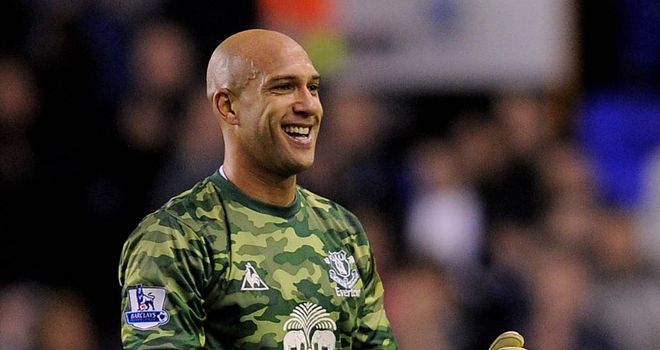 Tim Howard insists Everton are not out to settle old scores when they face rivals Liverpool in the FA Cup semi-final at Wembley on Saturday.
The American was the unlucky goalkeeper when Liverpool demolished the Toffees 3-0 at Anfield last month thanks to a Steven Gerrard hat-trick.
And despite Everton's unimpressive recent record of just five wins in 34 meetings against their neighbours, Howard is adamant that revenge is not in the team's thoughts.
"We know it is going to be battle but I don't think we are going to cloud our judgement with results which happened two or three weeks ago," said the 33-year-old stopper.
"All that will do is cloud our thinking and we need to be ready for the game.
"The big games are all about management. You cannot go into it willy-nilly because it is too big an occasion.
"You have to manage your emotions and the crowd and also, because it is such a big occasion, I think certain players need to calm other players down.
"From a fairytale aspect there is an element of settling scores but it is about keeping a clear head.
Revenge
"Sometimes when you are out for blood, out for revenge and trying to set something right you start to allow your judgement to be jaded.
"We need to be focused on Saturday. We cannot start worrying about who kicked who, or who scored what - we have to play the game the right way and afterwards, if we walk off victorious, it will be that much sweeter of course.
"But in the moment we have to be that more level-headed."
Everton go into the Wembley game on an impressive run of form, having lost just twice in their last 17 games. In contrast, Liverpool have suffered five defeats in eight Premier League games.
But Liverpool do have the advantage in terms of Wembley experience. Everton's last visit ended in defeat to Chelsea in the 2009 FA Cup final, while the Reds lifted the Carling Cup in February.
And Howard admits Everton are comfortable with the underdog tag.
"I think it is very similar to a few weeks ago," he added. "A few people would have pegged us to go to Anfield and get a result and we got taken to the woodshed - it was a rough night.
Underdogs
"I think we enjoy the underdogs tag, we always seem to play better that way.
"It is no secret, that is how people seem to view us and we seem to have success in that role.
"I don't think the players of either side care who is (the) favourite because we are focused on the task in hand.
"If people say we are favourites and we know we are not we would do the same thing: roll our sleeves up, scrap and fight and think of nothing less.
"Both sets of players will be tense because of the big occasion but I think both sides have top players who have played in World Cups, cup finals, so hopefully once the nerves settle down it will be a good match.
"It is important to have the experience (from 2009) because what people from the outside under-estimate is having the experience of what things smell and look like.
"When you walk out at Wembley for the first time it is daunting but having been there before and not having to marvel at the size of it and the enormity of the game helps and that comes from experience of 2009.
"I have played in a lot of big games, both teams have players who have played in big games, so you know how to manage it psychologically."