Di Matteo seeks perfection
Roberto Di Matteo claims Chelsea must produce two perfect games against Barcelona if they hope to reach the UEFA Champions League final.
Last Updated: 17/04/12 9:04pm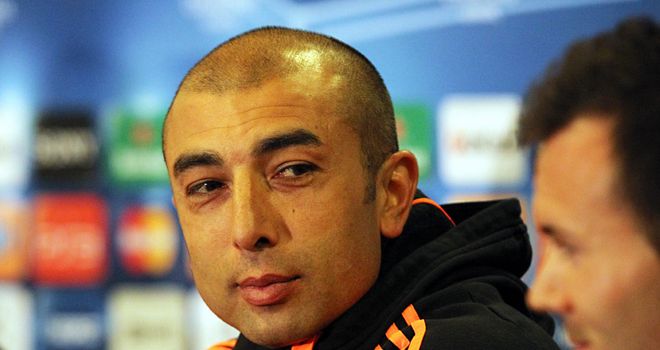 Roberto Di Matteo claims Chelsea must produce two perfect games against Barcelona if they hope to reach the UEFA Champions League final.
The Italian has suffered just one defeat in 12 games in all competitions since he took over the hot-seat at Stamford Bridge.
The Blues head into the first leg in confident mood after their 5-1 FA Cup semi-final triumph over Tottenham at Wembley on Sunday and they remain unbeaten at home since the turn of the year.
But Di Matteo had no illusions Chelsea would need to hit new heights on Wednesday night and next Tuesday at Camp Nou in order to beat the team some regard as one of the greatest of all time.
"It's fair to say we need two perfect games," Di Matteo said.
"But I think, also, that the fact we've been performing very well in the last six weeks gives us the belief we can produce two perfect games in this match.
"It's the biggest challenge for any manager to play against the best team in the world, but for every player as well, to be able to compare themselves against one of the top teams in the world."
Motivation
Di Matteo has also denied that Chelsea are out to avenge their semi-final defeat of three years ago when Andres Iniesta scored a dramatic late equaliser which took Barca through on the away goals rule.
The 41-year-old is just concentrating on getting a positive result.
"What happened in the past has gone," he said.
"There's a strong feeling in the team that they want to do well, that they're highly motivated to produce a good performance against Barca."
Chelsea have proven Barca's bogey side down the years, helping thwart their Champions League ambitions on more than one occasion.
Di Matteo said: "They don't like to play against us.
"The results in the past show that. The way we play is maybe a bit more difficult for them to play against.
"We respect each other, both, but we both know there'll be two teams who will play against each other.
"We've shown on many occasions that we're a team who can give them a lot of problems."
Messi threat
And Di Matteo is expecting his side to snuff out the threat of Lionel Messi.
The 24-year-old has never scored against Chelsea, but had only 78 career goals the last time they met and now has a whopping 243 - 63 this season alone.
Di Matteo said: "It has to be a collective team effort and responsibility to stop him.
"If you just think about stopping one guy, they've got nine others who can hurt you.
"The tactic has to be not just to stop one player, but to limit their threat in general rather than just Messi."
He added: "It's going to be a game where we obviously have to make sure we don't concede, but we also have to try and score a goal or two as well if we can to go into that second leg with a good result."