Barmby - Fryatt wants to stay
Hull City boss Nick Barmby claims 15-goal top-scorer Matty Fryatt wants to remain at the club after his hat-trick earned them a 3-1 victory over Barnsley.
Last Updated: 17/04/12 11:21pm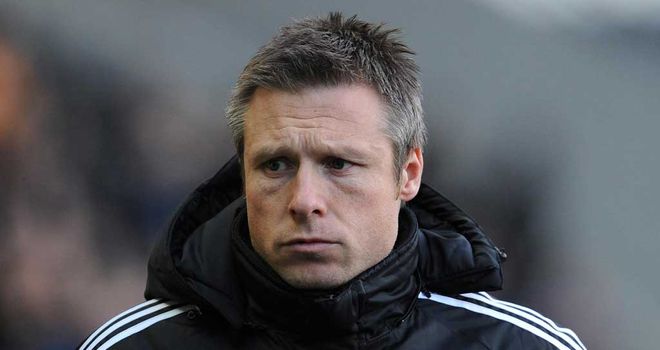 Hull City boss Nick Barmby claims 15-goal top-scorer Matty Fryatt wants to remain at the club after his hat-trick earned them a 3-1 Championship victory over Barnsley.
The former Leicester forward, who joined City for £1.2million in January 2011, struck twice from close range in the first half followed by a superb solo goal late in the game.
And Barmby highlighted Fryatt as a key component in his plan for success after the game.
"Matty deserved his hat-trick, if you look at his third goal it's one of the best you'll see at the KC Stadium - certainly this season," Barmby said.
"That's what he can do. His all-round game is good, he works hard, he stretches teams and it allows other people to get on the ball.
"When he's on song he's as good as anyone in this division."
Responding to suggestions Fryatt could be on his way out of the club, Barmby added: "Where has this come from? He's put his house up for sale so he wants to leave?
"There has been no indication to me he wants to leave. As far as I know he loves it here. It's imperative we keep hold of our best players because we're building for the future.
"If I've got anything to do with it, he won't be going anywhere."
Barmby's side could still catch Blackpool or Cardiff if they win their last two matches and either one of those two teams fails to take another point.
However, both have a superior goal difference over the Tigers, who also trail sixth-placed Middlesbrough by two points.
"Believe it or not, we weren't thinking about it (the play-offs)," he said. "We wanted a good performance and a good win. We owe it to the fans to finish on a positive note and you've seen that tonight.
"The first half was excellent, how I know we can play. We created a number of opportunities. Second half showed that no team has a God-given right to dominate for 90 minutes. We knew Barnsley would come at us, and to their credit they did, and they pegged us back.
"We knew if we weathered the storm we could hit them on the break and we did."
Awful form
Meanwhile, Keith Hill's charges, who responded through Jim McNulty, are no longer looking over their shoulders following Coventry's defeat against Millwall.
Barnsley have now lost eight of their last 10 games and asked if relief was the overriding emotion, Hill said: "Definitely. I'd agree with that.
"Our form has been awful since the turn of the year. When I came in we were relegation favourites, but we've overcome that and we've done it within our financial structure.
"Our football club and the fans should be proud of that.
"It leaves a slightly bitter taste because our form up to January was excellent and gave us encouragement in terms of what we thought we were building."
The Tykes were well off the pace before the break and a two-goal deficit was a reflection of their inferiority.
Despite an improved performance after half-time, Hill was less than impressed.
"It's easy to play when you're losing," he said. "These players have got to perform when there's something to play for, not when the game is gone.
"I cannot accept performances like we showed in the first half. You can't get away with it. We we're encouraged by the second half but overall it's an all too familiar story since the turn of the year."