Cole makes Team GB bid
Joe Cole has revealed his ambition to make an emotional return to East London as part of Team GB.
By Patrick Haond
Last Updated: 18/04/12 11:58am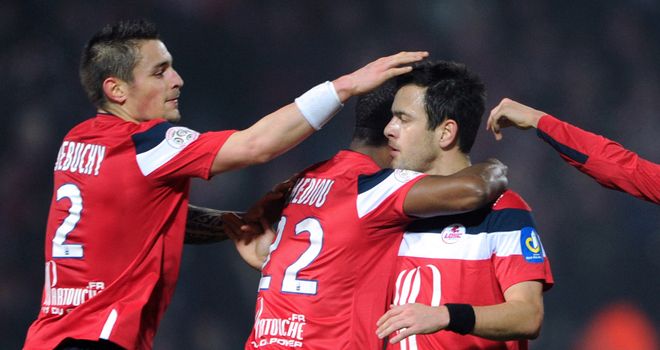 Joe Cole has revealed his ambition to make an emotional return to East London this summer - as part of Team GB at the Olympics.
The former West Ham man is currently on loan at Lille until the end of the season and is still in the running to be part of Stuart Pearce's final squad after remaining on his long list that has reportedly just been shortened to 80-odd players.
The draw will be held on Tuesday when Team GB will find out which of the four groups they are in with Pearce expected to name his final squad at the end of May.
And Cole admits he would love to be part of the biggest event in world sport this summer
"The Olympic Games in London are very important to me as I am a pure Londoner," said Cole. "A lot of the competition will be in East London where I started my career."
Pearce could yet be named as the next manager of the England team as the FA continues to search for a successor to Fabio Capello who resigned earlier this year.
Harry Redknapp remains the favourite for the post and his appointment could open the door for a return to the national side for Cole as he came through the West Ham youth set-up under Redknapp and handed him his first-team debut.
And, with England opening their European Championship campaign against France, Cole believes he has something special to offer the new Three Lions boss.
"I have not heard anything about playing for England," he added. "I would like to play for my country again but going to the European Championship will depend on the name of the new coach.
"I would be delighted to play against France and be a spy to give some information to the English team."
Cole is set to remain in Northern France until the end of the season when his loan deal from Liverpool runs out.
But with his former club still paying a huge chunk of his wages his future remains in the balance and he could yet make a return to England.
"I would like to stay and although the money is important it is not the first priority for me," he continued. "I will have to wait and see what position Lille finish the season in and then I can hold talks with the club.
"At the moment I am very happy to be here. I miss the Premier League a little because the atmosphere is so special. Apart from the big four, the level in England is quite similar to Ligue 1.
"I would like to stay, but it does not just depend on me."