Cahill proud of Barca display
Chelsea's Gary Cahill feels he has proved to himself he can cut it against the best after helping the Blues contain Barca ace Lionel Messi.
Last Updated: 20/04/12 8:09am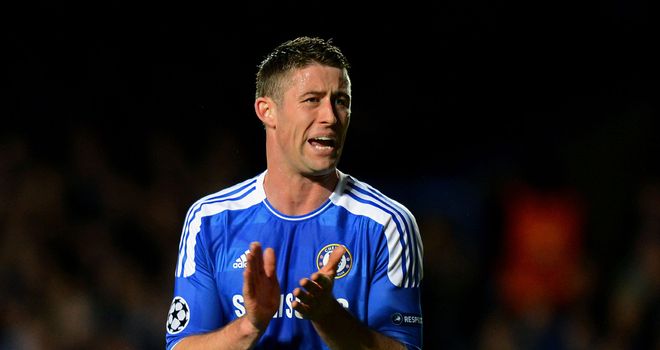 Chelsea defender Gary Cahill feels he has proved to himself he can cut it against the world's best after helping the Blues contain Barcelona superstar Lionel Messi at Stamford Bridge.
Messi took to the field in Wednesday night's UEFA Champions League semi-final first leg having scored a jaw-dropping 63 times for the European champions this season.
But the Blues were both the Catalans' and their star player's nemesis as they won 1-0 to extend Messi's goalless streak against them to seven matches.
Career-defining
Unlike defensive cohorts John Terry and Ashley Cole, Cahill was facing the man some regard as the best player ever for the first time, and the former Bolton star responded with a career-defining display.
"You're always trying to prove things to yourself," the England centre-back said.
"It's nice because I made the step up to international football, so I felt I could do that from the games I played with England.
"The experience I have taken from this will be vital for my career going forward."
Wednesday night was just Cahill's second Champions League start, with David Luiz having been an ever-present in the competition this season until suffering a hamstring injury.
That may have proven a blessing in disguise, with Terry and Cahill almost impassable every time they have played together.
"It was a fantastic experience for me because I need experience in this competition," he said. "It was great to play a part and get that experience.
"If you asked most of the players, they would say they knew how big this game was going into it. There was that aura of how big the game was.
"We will enjoy it but we know it will be really tough away from home."
Chances
Although Chelsea were magnificent in carrying out caretaker manager Roberto Di Matteo's game plan, Barca created more than enough chances to have spoilt their party.
"I'm sure if you ask them they would have felt frustrated," said Cahill
"If we can do that in the away leg, that would be fantastic, and replicate the result, it would be unbelievable.
"We are under no illusions. It is obviously going to be very, very tough against them."