Johnson ignores transfer talk
Adam Johnson has admitted it is frustrating not to play as regularly as he would like but insists he is still happy at Manchester City.
Last Updated: 22/04/12 10:50am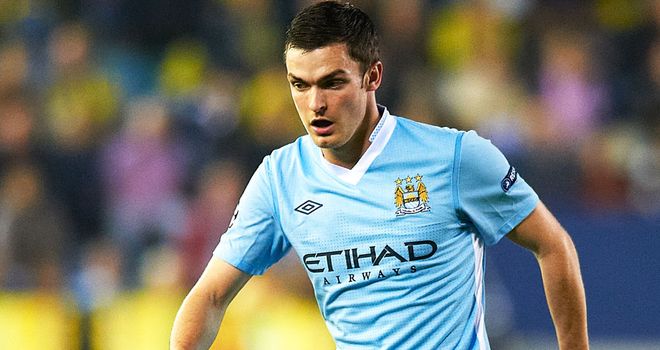 Adam Johnson has admitted it is frustrating not to play as regularly as he would like but insists he is still happy at Manchester City and takes no notice of speculation linking him with a move elsewhere.
Johnson has struggled to establish himself as a permanent fixture in the City starting XI since arriving from Middlesbrough in early 2010, with fierce competition for places meaning there is a lot of rotation in Roberto Mancini's squad.
The manager has also criticised Johnson publicly in the past and reports have suggested he could be a target for other clubs in the summer.
However, the England international maintains that he does not pay attention to transfer talk and is committed to playing his part for City.
"You always want to play more, but at big clubs there are probably only three or four players that are guaranteed to play every week," he said in the Sunday Mirror.
"If you want to win trophies players will tell you it's all about the depth and strength of the squad.
"At the end of your career it's all about what you have won and who you played for.
"I love it at City and enjoy being part of this squad but it's frustrating when you train hard all week and you don't start a game.
"But I think I have grown up a lot and learnt to accept things more. I don't go about shouting my mouth off any more.
"Besides, I don't take any notice of speculation... because that's all it is.
Nothing new
"Naturally my mates are always texting me about this club and that club coming in for me. But I'm happy here and until someone tells me otherwise that isn't going to change.
"I have lived with speculation since I was 16 so it's nothing new to me."
There have been suggestions that Mancini could lose his job if City fail to land the Premier League title, but Johnson believes it is important he remains at the helm.
He said: "It's natural there is going to be speculation over the manager, especially if we don't win something this season.
"But the club have made great moves forward under the manager and perhaps people shouldn't focus so much on the trophies but take into account how far forward this club have moved on in such a short space of time.
Taken on board
"I think it's crazy to talk about replacing the manager. You need to look at continuity. He has the staff, the players and the experience.
"Any drastic changes set you back and you effectively have to start again."
Johnson added: "The manager has said things about me in the past and we have spoken on numerous occasions. But I don't have a problem with criticism if it's justified. We have talked but it's never been an issue.
"I just tend to take on board what he has to say and then get on with it."