Pardew enjoying Toon buzz
Alan Pardew is hoping the feel-good factor is here to stay at Newcastle - and that it can persuade the team's stars to stay put.
Last Updated: 23/04/12 12:58pm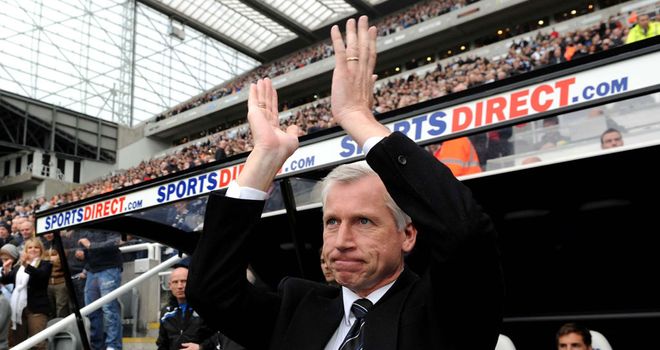 Alan Pardew is hoping the feel-good factor is here to stay at Newcastle - and that it can persuade the team's stars to stay put.
The Newcastle manager saw his side beat Stoke 3-0 on Saturday to move three points clear of Tottenham into fourth place in the Premier League and dreaming of UEFA Champions League football.
And the 50-year-old boss is revelling in the mood around the club and the impact it is having on the city.
"I drove in and had a coffee early before the game and you can feel the buzz," Pardew told The Sun.
"The fans were out early, getting prepared for the game and you can feel the atmosphere.
"We're not going to put the dream down and throw any clichés at it. We simply have a chance.
"Football is important in this city. There are a lot of people out of work and when you look elsewhere, it is a tough environment for businesses and for people to earn money.
"But when they come to the stadium they see a team playing like we are and it just lifts you and they can take that back into the workplace.
Momentum
"The momentum is with us and momentum at this club can be a powerful force. I am lucky not to have been here when it is the other way because playing in front of 52,000 when it is not going well must be tough."
Pardew believes team spirit has been key to their success this season and, after a run of six consecutive wins, is determined to keep the group together by continuing to improve.
"I played in a very good Crystal Palace side which finished third in this division," he added.
"And I had a very good team at West Ham. But none had the camaraderie of this group.
"I hope that means the players we have got all want to stay and we can do it all again next year.
"Other clubs will look at these players now and try and take them off our hands.
Love
"But it might be that the belief and love they have for each other will keep them here.
"I'm hoping to get to such a point where there are not really many places above where they can go. That is what we really want."
Toon midfielder Cheick Tiote certainly seems keen to stay at the club.
The 25-year-old Ivory Coast international said: "For a long time the fans have not had European football but now they will.
"That will definitely convince players to stay. The manager has been great with us.
"When he came to Newcastle, a lot of fans didn't believe he would do a good job.
"But he always believed in us and now we are repaying him."