Cahill - Barca trip no holiday
Gary Cahill has revealed he is no stranger to Camp Nou ahead of Chelsea's trip to Barcelona - he went on holiday there as a youngster.
Last Updated: 23/04/12 1:48pm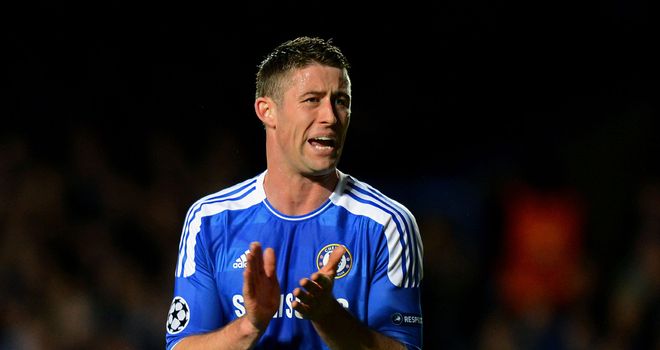 Gary Cahill has revealed he is no stranger to Camp Nou ahead of Chelsea's trip to Barcelona - he went on holiday there as a youngster.
Chelsea take a 1-0 lead to Barcelona as they prepare for Tuesday night's do-or-die UEFA Champions League semi-final second-leg against the defending champions.
And Cahill will be one of few players in the Blues side never to have played at the vast stadium.
But the 26-year-old England international is not a complete stranger to the venue having toured the area in the 1990s.
"While I was in the area on holiday, I went to see the stadium," Cahill said. "I just had a little look round.
"You're on the top tier looking down thinking they must be like Subbuteo players, it's that high."
The 26-year-old January signing has swapped a relegation battle with Bolton for a Champions League semi-final.
And after contributing to clean sheets against Barcelona and Arsenal in the past week, Cahill is already answering the doubters who questioned whether he was good enough to perform at this level.
"It's crazy, really, the progression," he said.
"You have to pinch yourself sometimes in your career.
Strides
"First of all, you want to play in the Premier League and then you want to make these strides into playing these games - it's fantastic.
"If your career hasn't gone from straight away playing in these competitions, some people say, 'Oh, you can't play there - you haven't got the experience, you haven't got this you haven't got that'.
"But you only get that from playing in the games - like the other night.
"The experience I gained from that will do wonders for me going forward in my career."
Cahill has forged a strong partnership with Chelsea captain John Terry that began on the international stage and is now paying dividends at club level.
The pair have conceded just one goal in the five matches they have started together for Chelsea and have yet to lose in any of the eight games in which both have figured.
Cahill admitted the partnership feels a good one, saying: "That's the sort of feeling I got when I first played with him for England.
"It's easier playing with top players and the way that he prefers the left-hand side and me the right, it just slots in nicely."
Terry, like many of the Chelsea side, has experience of playing at the Camp Nou as this will be the Blues' fifth trip there since 2005.
Experience
And Cahill is hoping that experience can help him and the team.
He added: "The lads say that the pitch is big and you can see from the TV games what the atmosphere's like.
"It will help, obviously, with the lads that have been there before and the experienced players that are going to be out on the field.
"Hopefully it'll stand us in a little bit of good stead.
"If you weren't a big character or mentally strong, I don't think you would survive playing in these games or being at this club.
"It rubs off on you as well. You learn from experienced players."
Chelsea will need all that experience on Tuesday if they are to recreate last week's successful backs-to-the-wall effort to stifle the European champions.
Asked if that would be the game plan again, Cahill said: "I think so. You probably need an element of luck, you need the concentration levels from everyone to be where they were the other night, and everyone sticking to their job and working hard.
"We're under no illusions how hard the game's going to be but we've given ourselves a good start."