Ellington hails Town starlet
Nathan Ellington insists Ipswich must keep Jay Emmanuel-Thomas if they are to launch a promotion bid next year.
Last Updated: 23/04/12 3:22pm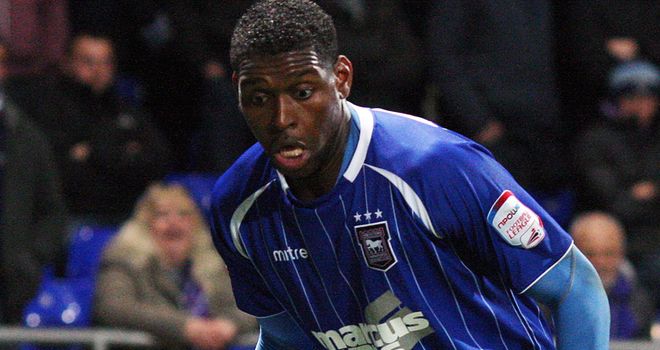 Nathan Ellington insists Ipswich must keep starlet Jay Emmanuel-Thomas this summer if they are to launch a promotion challenge next season.
The 21-year-old, who signed a three-year deal at Portman Road last summer following his move from Arsenal, has been linked with a number of Premier League clubs after catching the eye during Town's climb to safety since the turn of the year.
Emmanuel-Thomas has scored seven goals this season and manager Paul Jewell recently described him as an "unbelievable natural talent".
Experienced striker Ellington is also impressed by the youngster's attitude as well as his ability and thinks he has the potential to go far.
One to watch
The 30-year-old said: "Even at the start of the season in some reserve games I could see his ability to create something from nothing and his power shots from distance.
"He's certainly got great potential and one to watch for the future for sure.
"The ability he's got allows him to take on anybody and he's got the eye for a pass as well. He can only improve and has the tools needed to play in the Premier League, definitely.
"He told me that being around the Arsenal team helped him a lot with his game. He will listen to any advice from more experienced players and take it on board to help him improve his game.
"He's a very confident lad as well and that certainly helps to succeed at this level. You need to believe you can do anything to anyone - and that's what he's got.
"He's one of our best players as he's proved this season and one of those the club has to keep if we're to push for promotion.
"It goes without saying he needs to stay and if he carries on producing the same performances next season, we'll be in good shape."
Confident
Ellington is confident the club only needs a few additions this summer to turn them into genuine promotion contenders.
He added: "Aaron Cresswell has come on really well having cemented his place at left back while I've also been impressed by Josh Carson and Luke Hyam, who has come through the youth ranks and is doing well.
"Players like Lee Martin and Carlos Edwards are also important to us. We've got a lot of talented players at the club and if we can just add to the squad in certain areas this summer, we'll do well next season."
"It's been a building project for the manager and I believe we're coming along nicely now."
Nathan Ellington is represented by S J Dent & Co Sports Management (Part of The ROAR Group - www.sjdentmgt.com)