Allardyce harbours slim hopes
Sam Allardyce believes West Ham have a 'slim chance' of claiming the final automatic promotion spot following their win at Leicester.
By Razwan Mirza
Last Updated: 23/04/12 10:31pm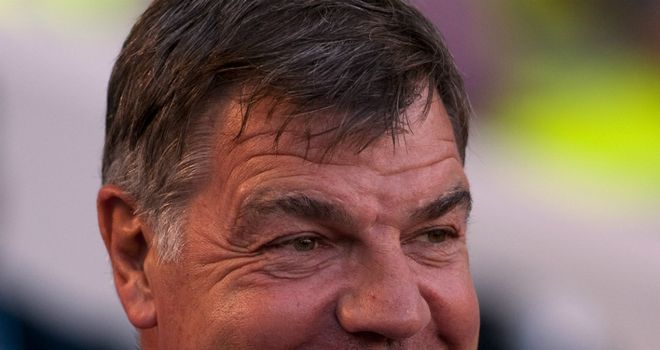 West Ham boss Sam Allardyce believes his side have a 'slim chance' of claiming the final automatic promotion spot in the Championship following their 2-1 win at Leicester City.
The third-placed Hammers took advantage of Southampton's defeat to Middlesbrough to ensure the race goes to the final weekend of the season.
West Ham will now need to beat Hull City at Upton Park on Saturday and hope relegated Coventry do them a favour against the Saints.
Allardyce's side extended their club record of away wins in a season to 13 at the King Power Stadium despite going a goal behind as Jermaine Beckford gave City the lead.
However, Winston Reid restored parity six minutes before the break and just before the hour mark Jack Collison's thunderbolt won the game for the visitors.
Good night
Manage Allardyce told Sky Sports 1: "It was a well deserved victory and I think in the end it should have been by more but unfortunately we squandered too many simple chances which left us a little nervous towards the end.
"We got exactly what we wanted tonight which was the victory. Like I said, I thought it should have been by more if were a bit sharper, but a really good performance and having to come from a goal down to win the game, which was a terrific goal by Jack Collison, so it's a good night for us.
"We've stayed in the race now until the very, very end, which is what we wanted and we'll have to do our job on Saturday and hope that Coventry can do a little bit at Southampton and wait and see.
"If Southampton get the jitters or the nerves or Coventry play with no fear because they've got relegated now, you know, who knows. But we have to beat Hull."
Asked how Southampton will be feeling after Monday night, Allardyce added: "A little bit more nervous now than they were before the game I would think.
"We've kept the pressure on them, but it's still a slim chance."
Pressure
Meanwhile, Kevin Nolan admits he's also hoping for a helping hand from already-relegated Coventry.
"We knew we had to put the pressure on Southampton. We're not expecting much on Saturday, but it was always positive for us to make sure that we kept our momentum going and our wins going," said the Hammers captain.
"Hopefully Coventry can do us a favour on Saturday, but it will be a bit tougher for Southampton now. We didn't want to give it to them, we wanted to make them earn it. They've been great all season but let's see if they can get over the finishing line now."