Pearce to watch Beckham
Great Britain Olympic coach Stuart Pearce will fly to the United States to watch David Beckham play for Los Angeles Galaxy.
Last Updated: 24/04/12 4:20pm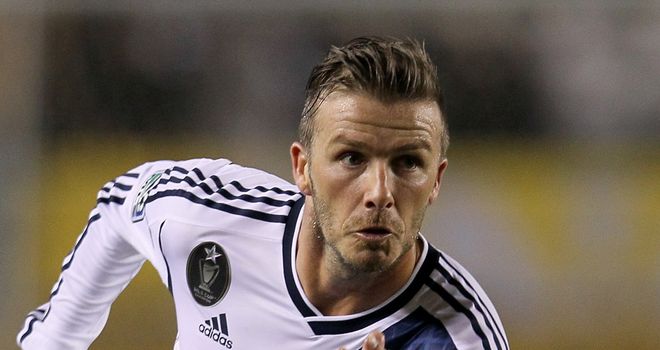 Great Britain Olympic coach Stuart Pearce will fly to the United States to watch David Beckham play for Los Angeles Galaxy.
Pearce will attend Galaxy's game in Seattle on 2nd May with a view to naming the 36-year-old as one of three over-age players in his 18-man Olympics squad later next month.
Despite Beckham's fame and his role in securing the Olympic bid for London, Pearce insists his selection decision will be based purely on form and fitness.
"David Beckham will be treated exactly the same as any other individual, whether it is young or over-age," said Pearce.
"Form and fitness will dictate what the make-up of the squad will be. David falls into the same category.
"I have a duty of care to the Great Britain squad to try and win a gold medal. I will pick the strongest possible squad I can.
"I will know a bit more when I go to the States to see what form (Beckham) is in.
"He's made the shortlist and he has been a great ambassador for this country and the Olympics, but that's no recommendation that he will get in the squad and that's fair and square across the board for all players."
Olympic dream
Former Brazil star Ronaldo, a team-mate of Beckham's at Real Madrid from 2003 to 2007, is in no doubt the midfielder can justify his place in the squad.
The retired World Cup winner said: "David Beckham is a great player and a great friend of mine.
"I'm sure he would love to participate in this Olympic dream. It's up to the manager to pick the best team available but if I was the manager I definitely would as he would guarantee quality.
"Beckham is a real calm guy and a team player and despite his status and fame he is actually very humble. Never during my time at Real Madrid did I hear anyone complain about him, and he would help with the younger players.
"He's still playing for the Los Angeles Galaxy and only last week scored a beautiful goal from outside the box into the top corner, he really looks after himself so despite his age I really think he could contribute."
Ronaldo won an Olympic bronze himself in 1996 and he believes Brazil, with stars such as Neymar in the squad, could finally win the one trophy that has eluded the country.
"Neymar is the biggest talent we have in Brazil and I'm sure he will have a big role to play at London 2012," he added.
"There is a lot of pressure on Brazil to break this taboo as the only title we have not won."
Ronaldo was one of the ambassadors for Tuesday's Olympic tournament draw which saw Great Britain put up against Uruguay, United Arab Emirates and Senegal in Group A.