Villa faith in McLeish
Aston Villa chairman Randy Lerner and chief executive Paul Faulkner have full support for Alex McLeish.
Last Updated: 25/04/12 8:44pm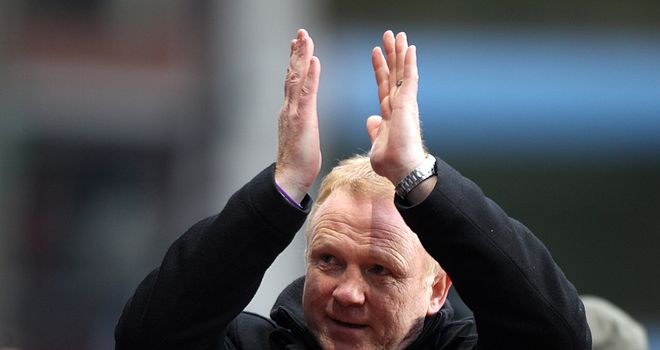 Aston Villa chairman Randy Lerner and chief executive Paul Faulkner have issued a statement outlining their full support of under-fire manager Alex McLeish.
Tuesday night's defeat to Bolton plunged the injury-hit club into increasing despair, as they now sit just three points clear of the Premier League relegation zone with three matches remaining in the season.
After the loss to Owen Coyle's team, who sit in the drop zone but have a game in hand, McLeish insisted he still had the faith of Lerner and Faulkner.
And the Villa hierarchy have now offered public backing to the man they only last summer recruited from relegated Second City derby rivals Birmingham.
A statement from Lerner and Faulkner on Villa's official website on Wednesday evening read: "Right now everyone connected with Villa is hurting badly.
Pressure
"A win was in sight last night against Bolton after a strong start and the tenacity the team displayed, although ultimately we weren't able to hold on for the points.
"We very openly acknowledge the frustrations of Villa fans and share in them completely.
"What matters to us and the board at this moment is how we, as a club, handle adversity and the pressure it brings.
"Our horizon is the next three games and we continue to be in control of our own destiny.
"Young players side-by-side with more senior players are fighting hard for the club.
Fight
"They are now preparing for West Brom followed by Spurs and Norwich.
"We will continue to support and rely on our manager and the squad and therefore give them our full support.
"We are totally conscious, as is everyone at the club, that this is a very trying time for those who love Aston Villa.
"We know that the team will continue to fight through every minute of the remaining games and we hope Villa fans will continue to show their great support."