Di Matteo gets player backing
Frank Lampard and Branislav Ivanovic have paid tribute to Roberto Di Matteo as the Italian waits to see if he will become permanent boss.
Last Updated: 26/04/12 9:32am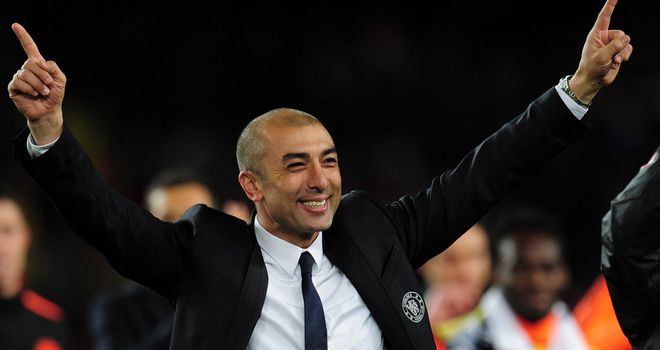 Frank Lampard and Branislav Ivanovic have paid tribute to Roberto Di Matteo as the Italian waits to discover whether he will be named Chelsea manager beyond this season.
Di Matteo has transformed the team's fortunes since taking over from Andre Villas-Boas on an interim basis and on Tuesday guided Chelsea into the final of the UEFA Champions League.
The Blues will face Bayern Munich in next month's European showpiece, while they are also looking to claim FA Cup glory and finish in the top four of the Premier League.
While the managerial situation will not be resolved until the summer, Serbian defender Ivanovic believes there is every chance Di Matteo will get the job.
"Nobody thinks Munich will be his last game," he said in The Times.
"He's changed everything. He gave us support, he gave us trust, and I think he's great.
"We have a great relationship and the results are good for us. At the moment, we don't want to look forward too much.
"We are not finished yet, we are not safe in the league for the Champions League place.
"We want this still, we are in the final of the FA Cup, so there are a lot of things to do.
"We've got a big squad and we'll try to do everything."
Deserved
Lampard has also been impressed by the way Di Matteo has galvanised the Chelsea side since being handed the reins.
The midfielder said: "It's a hard call for me to make because it's a club decision. But what I can say is there's no coincidence in what he's done.
"He's created an atmosphere, he's got players playing, the camp is very, very happy - you can see that in the results, and the results don't lie.
"I can't speak highly enough of him.
"I'm sure it's a question that maybe he doesn't know, I don't know, and the club will sit down in the summer."
Asked if Di Matteo's claim would be impossible to ignore if he was the man to mastermind a Champions League win, Lampard added: "Nothing's impossible. It was impossible to win here and we did it.
"If we win it, Robbie deserves to win it for what he's done at the club."