Rosicky inspired by United duo
Tomas Rosicky hopes to emulate Manchester United¿s elder statesmen after extending his stay at Arsenal.
Last Updated: 26/04/12 4:53pm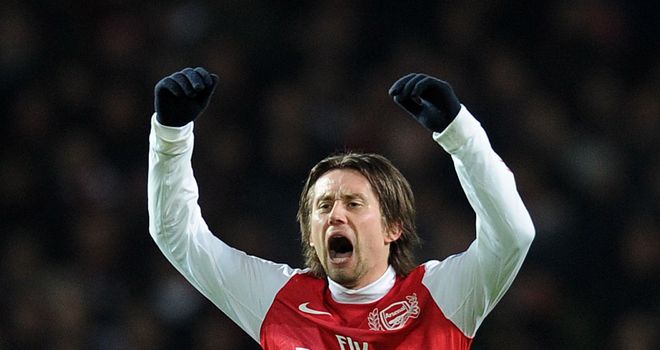 Tomas Rosicky hopes to emulate Manchester United's elder statesmen after extending his stay at Arsenal.
The Czech Republic midfielder signed a new contract last month, believed to be a two-year deal, after his best run of form for years.
Rosicky signed from Borussia Dortmund in May 2006 but the 31-year-old's progress has been stalled by a series of injuries, with a hamstring tendon problem preventing him playing at all between January 2008 and September 2009.
Next season will be Rosicky's seventh with the Gunners and he is confident of making up for lost time having seen United midfield stars Ryan Giggs and Paul Scholes continue to impress into their late 30's.
"I still believe I have plenty in me," he told the official Arsenal magazine.
"We will see how it all goes, but right now I feel great and want to continue this way.
"You know, my normal age is 31, but in football years I am 29 - I lost two years because of injury.
"I can say that I feel very well and I hope I have many years to come.
Real inspiration
"You see players like Ryan Giggs and Paul Scholes - what they are producing at their age for Manchester United is great and that's a real inspiration for me.
"Everything is possible, but of course it will depend on my health."
With three games left this season, Rosicky is on course to top his previous best of 26 league appearances in a single campaign for Arsenal.
The 85-cap international has helped the Gunners force themselves back into third place in the Premier League in the past few months and he has relished playing in his favoured attacking midfield role.
"I am in the advanced position of the three, looking to get in between the opposition's midfield and defence," he said.
"When we have the ball I am starting quite close to Robin [van Persie] up front, and after that I can come a bit deeper and stretch the pitch out.
"I can't say for sure whether this has made the whole difference, but I would certainly agree that what the boss is asking [of me] at the moment suits me nicely.
Rhythm
"The whole season has gone quite well for me, but I was injured twice in the first few months so couldn't keep up sustained form. I am enjoying the rhythm the manager has given me now."
Rosicky added: "Obviously the whole team is playing very good football at the moment and I think I fit quite well into the team now. We enjoy playing together and that is a big part of it."