Saha reveals injury regret
Louis Saha admits a succession of injuries means his career feels 'incomplete', but is still proud of the way he keeps bouncing back.
Last Updated: 28/04/12 12:36pm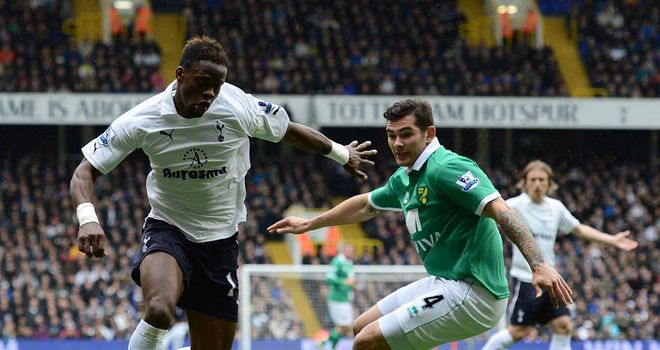 Louis Saha admits the number of injuries he has suffered means his career feels 'incomplete', but is still proud of the way he keeps bouncing back.
The Tottenham forward has had to continually battle back from the treatment table during his time in England, particularly at Manchester United, where injury cost him the chance to play in the 2008 UEFA Champions League final.
At international level Saha has only won 20 caps for France, despite making his debut for Les Bleus in 2004.
A yellow card in the 2006 World Cup semi-final against Portugal also cruelly robbed him of the chance to appear in the final against Italy.
Despite the disappointments Saha has made more than 400 appearances in England for Newcastle, Fulham, Manchester United, Everton and now Spurs.
The 33-year-old former Metz youngster admits his fitness problems have left him with some regrets, but he still looks back on his career with pride given the setbacks he suffered.
When asked whether injuries had prevented him from fulfilling his potential, making him a 'nearly' player, Saha told the Daily Mail: "'Nearly great, yeah.
Incomplete
"Something is missing in some ways. Some really good moments, but then at times I feel it's finished, incomplete.
"But I still feel I've managed to do something amazing and, even with all the injuries, I'm still fighting. I still managed to play 500 games. Which is not bad.
"I don't think there are many players who have experienced these injuries and still come back at this level. It's demanding. To be here still, it's good."
Saha is currently on a six-month contract at White Hart Lane since his deadline day move from Everton in January.
He has hit four goals in 11 appearances for Harry Redknapp's men but their form has stalled, leaving them with a real fight to secure a top four place.
Saha knows he has to perform in the club's final four games of the season not only to help their bid for a Champions League place but also to earn a new contract.
"I hope I can stay," he added, when quizzed on his immediate future.