Utd and City in touch over Lucas
Lucas Moura's father, Jorge Rodrigues, claims that both Manchester clubs have invited him to England.
By Paulo Freitas
Last Updated: 29/04/12 5:14pm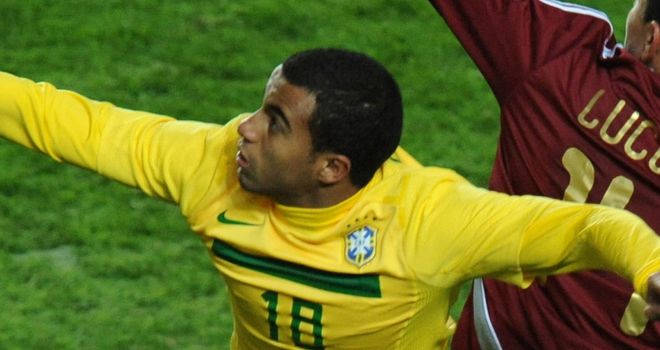 Lucas Moura's father, Jorge Rodrigues, claims that both Manchester clubs have invited him to England.
Rodrigues, along with South American super-agent Wagner Ribeiro, travelled to Europe last week for meetings in Spain, Italy and England.
There first leg of the trip saw them arrive in Madrid to meet with Real, while he also visited Milan to speak with Inte and the third leg of the itinerary was meant for him to go to London to talk with Chelsea - but he had to return to Brazil for surgery on his shoulder.
Now he has revealed he will again travel to Europe to talk with the Manchester clubs, United and City, while Paris Saint Germain have also been in touch.
The 19-year-old Brazilian international is one of the hottest young players in world football and a host of clubs are battling to land the Sao Paulo ace.
"Everyone in Europe would want Lucas," Rodrigues told UOL, confirming he went to Madrid.
"(Jose) Mourinho told me if there is a kid ready to play in Europe then it is Lucas. (outgoing Barcelona boss Pep) Guardiola and Inter's manager said the same."
No secrets
Rorigues admitted he was not concerned that his trip to Europe came to light.
"It would leak out in one way or another, but Lucas (Moura) is well prepared. He knew we were there. We do not keep secrets. He is the one who decides.
"He has a commitment with Sao Paulo, so there is nothing to talk about. He does not want to leave and I do not want that either.
"He told me he wants to be in Brazil until the (2014) World Cup."
Rodrigues, though, does not look finished with his trips to Europe as he confirmed he would be talking to Manchester United and Manchester City.
Asked about the Manchester giants, he said: "They invite us to go and we go, without any commitment, it is good to know."
Meanwhile, Sao Paulo coach Emerson Leao was less than happy to learn of Rodrigues's trip.
"I do not know why they do that," he told Globoesporte. "That does not need to happen. It is better if I do not talk about it.
"I am the coach and Lucas has a contract until it expires or Sao Paulo want to sell. If someone wants Lucas, then they must talk to the president and not to other people. This does not help at all."