Jerome seeks talks on role
Cameron Jerome feels he has suffered as a result of Tony Pulis' 'unfair' selection policy and is planning talks with the Stoke boss.
Last Updated: 02/05/12 5:21pm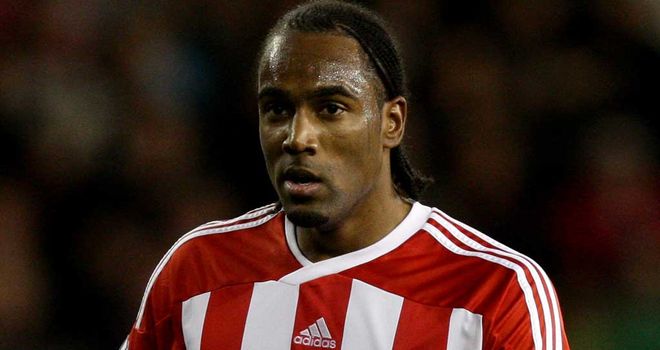 Cameron Jerome feels he has suffered as a result of Tony Pulis' 'unfair' selection policy at Stoke this season and plans to discuss the matter with the manager this summer.
Since leaving Birmingham to sign a four-year deal with the Potters on transfer deadline day last August, forward Jerome has endured a frustrating time, starting only 16 games in all competitions.
Although the 25-year-old's opportunities have been limited, he has still managed to contribute a fair share of goals and he added another by netting a 69th-minute equaliser in Tuesday night's 1-1 Premier League draw with Everton at the Britannia Stadium.
Frustrated
That strike - coming two minutes after his introduction as a substitute - took his tally for the season to eight and Jerome believes he should be getting more of a look in.
"I think I have made a big impact this year," said Jerome, quoted in The Sentinel.
"In the Europa League I have played most of the games and scored a few goals, and I have scored in the domestic cups.
"I have not been given a fair crack of the whip - what I think would be a fair run in the side.
"That's just my personal opinion. I train hard and I see what goes on in training. The rotation policy has not been fair in my eyes, but that is the manager's decision.
"Everyone else has to get on with it. You just have to try to make an impact when you get your opportunity on the pitch.
"But with coming on for 10 minutes here and there, it is very hard to make an impact in the Premier League."
Jerome is yet to discuss the issue with Pulis - who yesterday described him as being "a great player to have coming on when the game is getting stretched" - but intends to do so soon.
Unhappy
"I have not really spoken to him about playing since I have been here. He picks the side and you just get on with it," he said.
"As a player you work hard in training and try to break into the team I suppose, but it seems no matter what I do I can't get in. That's something I will have to address in the summer.
"To be honest, I am unhappy about not playing, but there are probably 10 or 11 other players in the same position as me."
Despite his frustration, Jerome says he has not yet contemplated a move away from Stoke, adding: "I have not thought about leaving, but being the age I am and in my prime, I want to play first-team football week in, week out."