Cup is focus for Mikel
John Obi Mikel admits Chelsea must concentrate on cup glory after Newcastle all but ended their hopes of a top-four finish.
Last Updated: 03/05/12 2:42pm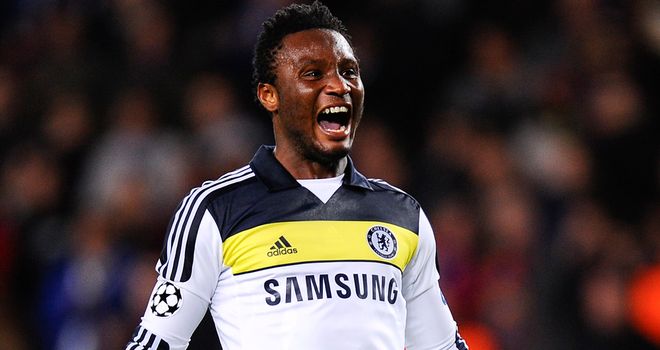 John Obi Mikel admits Chelsea must concentrate on cup glory after Newcastle all but ended their hopes of a top-four finish.
Chelsea were beaten 2-0 by the fifth-placed Magpies at Stamford Bridge on Wednesday night, opening up a four-point gap between the sides with just two games to go.
With Tottenham also four points ahead of Roberto Di Matteo's men, it appears that Chelsea's only hope of playing UEFA Champions League football next season is to beat Bayern Munich in this year's final on May 19th.
But first there is the small matter of an FA Cup final against Liverpool at Wembley on Saturday, and the 25-year-old midfielder is determined not to let the occasion pass Chelsea by.
"Now we have to concentrate," said Mikel.
"Everyone is going to say that the only chance we have now is to win the Champions League final.
"It is what everyone wants, it is what the fans want and it is what we want.
"But we have to make sure now that we win on Saturday in the cup final and make sure that we don't let the cup final go past us."
Below par
Chelsea dominated much of the second half against Newcastle but it was a below-par display in which they were undone by two remarkable strikes by Papiss Cisse - the second a contender for goal of the season.
But after Chelsea stunned Barcelona in the Camp Nou last month, Mikel appears to have a relaxed attitude to what football can throw at you.
"It was just one of those days," he added.
"We played Barcelona the other day. They created God knows how many chances and they couldn't score, but we scored. This is football.
"We have to forget about it, go back to training and go back to what we have been doing up until now and just make sure we put it right on Saturday."
Asked about Cisse's brilliant brace, Mikel said: "First one wasn't bad. Second one, as well, wasn't bad.
"It wasn't like they beat us hands down. I think we had more possession of the ball.
Chances
"We just couldn't put the ball in the back of the net. We didn't create as many chances as we wanted.
"I think they had three shots and two goals.
"We were below par and we didn't play as well as usual.
"We have a cup final on Saturday. I think we should look forward to that and just forget about this game."
The defeat was only Di Matteo's second since taking over and could be attributed to the decision to rest the likes of Ashley Cole, Frank Lampard, Juan Mata and Didier Drogba.
But Mikel believes Di Matteo's approach has been a good one.
The Nigeria international added: "When the manager makes changes like this, sometimes it's good.
"He's been making changes and it's been working.
"We have been playing well, we've been creating chances and the team spirit has been there."