Jones - Title race not over
Manchester United's Phil Jones is warning that Manchester City are still a long way from clinching the Premier League title
Last Updated: 04/05/12 4:01pm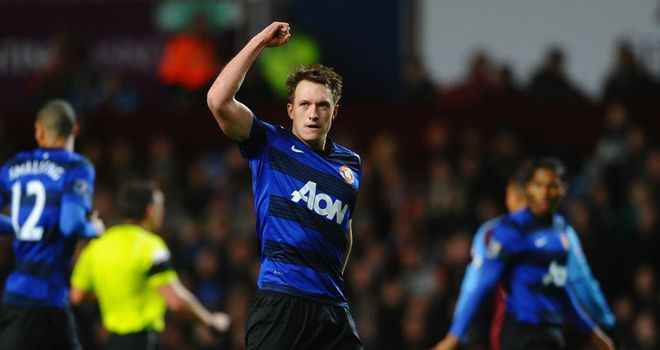 Manchester United's Phil Jones is warning that Manchester City are still a long way away from clinching the Premier League title.
City moved to the top of the table with a 1-0 win over United on Monday and should finish first if they win their remaining two games of the season.
But Roberto Mancini's men face in-form Newcastle on Sunday while United may have the chance to leapfrog them with a win over Swansea at Old Trafford.
Both Manchester clubs are on 83 points, which would have already guaranteed the title last season, but City lead on goal difference by a margin of eight.
Sir Alex Ferguson's side have lost both of their league meetings with their city rivals this season and struggled to test Joe Hart on Monday, but Jones is not giving up on winning the league.
Disappointing
He said: "There have obviously been a lot of questions raised and rightly so. We didn't play to our best on Monday, which was disappointing.
"But make no mistake about it, we are still there. We are on level points with them. Only goal difference separates us at the moment and we have seen already this season there have been so many twists and turns.
"Don't be surprised if you see a few more.
"The disappointment turned to positivity very quickly. Obviously on Tuesday the lads were gutted and massively disappointed.
"But we have moved on quickly, pushed it to one side and put it right in training. There are still a lot of bubbly characters about.
"There is no point dwelling on it. It has happened. It has gone. We move on from it and are looking forward to the game at the weekend."
Manchester United are in action immediately after Newcastle's meeting with Manchester City on Sunday and could know the result before they take to the field.
But Jones is not being drawn into the permutations and insists that he will put events in the North East to the back of his mind.
Concentrate
He added: "We have to concentrate on what we can do. We have to win the two games, take six points and see where that takes us.
"I am sure what is happening at Newcastle will be in the back of everyone's minds but there is no point sitting there watching their game.
"I don't think it will be on in the dressing room because we have to prepare properly."
The mind games have continued between the two title challengers this week, with Mancini reiterating his belief that United are the favourites for the title.
He has also announced on previous occasions that Ferguson's side face the easier run-in as they take on Swansea and Sunderland, while City go up against Newcastle and Queens Park Rangers.
But Jones does not agree with Mancini's comments and acknowledged that his side are in for a tough test against the mid-table Swans.
He said: "I don't know about it being easy. If he (Mancini) looks at the games, none of them are easy in the Premier League.
"We have seen that so often this season. There have been so many surprises and Swansea are one of them."