De Gea hoping for Toon lifeline
David De Gea admits Man Utd only have themselves to blame for losing the title race initiative but is hoping Newcastle throw them a lifeline.
Last Updated: 06/05/12 11:07am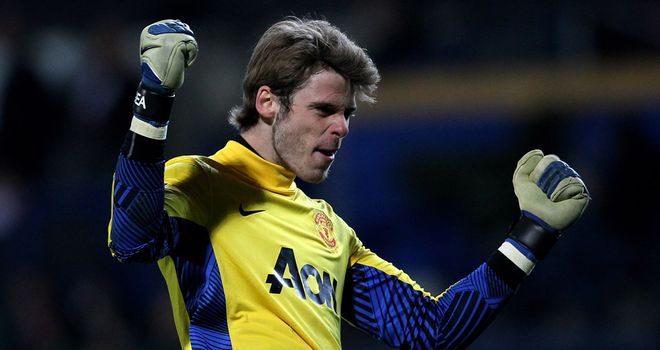 David De Gea admits Manchester United only have themselves to blame for losing the initiative in the Premier League title race but is hoping Newcastle can throw them a late lifeline by tripping up Manchester City.
United have seen an eight-point lead over City trimmed to nothing in recent weeks, with dropped points against Wigan and Everton proving costly.
Roberto Mancini's men leapfrogged them into the top spot with a 1-0 victory in Monday's derby and now have the upper hand heading into the final two games.
Red Devils goalkeeper De Gea believes his side have brought their position upon themselves but hopes high-flying Newcastle can do them a favour by beating City at St James' Park on Sunday afternoon.
The Magpies put a dent in Chelsea's hopes of UEFA Champions League qualification in midweek, beating the Blues 2-0 at Stamford Bridge, and the Spaniard is backing them to cause another upset.
De Gea, who will face Swansea with United later on Sunday, told The Sun: "There have been lots of ups and downs in the title race. But we have thrown away our advantage in games against Wigan and Everton.
"We only have ourselves to blame. There are two games left for both of us and they will be equally tough.
Objective
"Our objective is to take maximum points and hope that City slip up. I saw Newcastle against Chelsea and they could play a vital part in the title race, they could hold the key to United retaining the title.
"It won't be easy for City and we just have to hope they fail to win and we get back to winning ways against Swansea."
De Gea admits United are still hurting after losing Monday's derby and says finishing second would be a devastating blow.
He said: "It has proved to be an expensive and painful defeat.
"There is no doubt that finishing second would be no consolation. It would be a huge disappointment for everyone at the club."